THE GREENLINE HYBRID SYSTEM EXPLAINED
Greenline hybrid
NEW TECHNOLOGY BUT SIMPLE AND PROVEN
Through the immeasurable effort in engineering expertise, time and money invested during the development phase of the Greenline Yachts, this state-of-the-art product offers great performance, reliability and user friendliness at incredible value for money. A lighter and stronger yacht further increases energy efficiency and performance.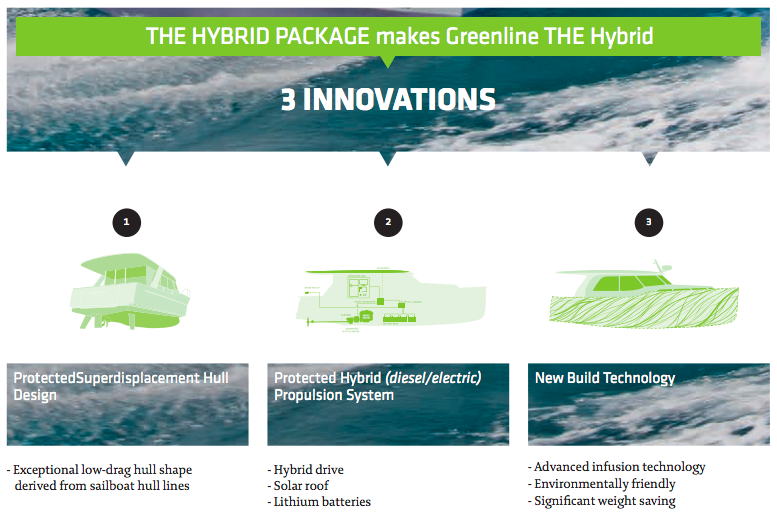 The Hybrid system is made up of:
Protected Superdisplacement Hull Design
Benefits:
– comfortable, safe ride
– easy maneuvering
– seaworthiness
– low running costs
Greenline's protected Superdisplacement hull shape generates less drag, less wake, creates the ability to use less fuel, generates lower CO2 emissions, and enables the use of electric power. It offers better seaworthiness and easier handling than any comparable hull. The reduced energy requirement means less running cost, less refueling stops and more time in your favourite anchorage or cruising grounds.
Besides being efficient, the Superdisplacement hull shows optimum performance in all sea conditions – an important factor in comfort and safety when underway. The Greenline manages even challenging sea conditions with ease, needing only minute corrections at the wheel. The twin sacrificial stabilizer fins are a further advantage of this hull, and have three functions: they deliver roll stability, tracking stability, and protect the drive and rudder. If the stabilizers get damaged, the structure of the boat will not be affected. These fins can be quickly and inexpensively replaced.
The Hybrid system is made up of:
Protected Hybrid (diesel/electric) Propulsion System A fully electronically managed and maintenance-free system
Benefits:
– simple maintenance
– ease of use
– use of electric energy for propulsion: the running cost of electric boating is 10 times less than burning diesel fuel, even disregarding solar energy
– eliminating smoke and noise
– 230 (120) VAC power system at any time, either at the dock or at sea
Greenline Yachts can collect, store and use electrical energy from the sun, from the shore pick-up or from the main engine driven generator. With a solar array and a Hybrid drive electric unit this boat is a mobile power station providing a constant supply of AC power (230 or 120 VAC) on board.
The Hybrid system is made up of:
The user-friendly and reliable hybrid drive system (protected) consists of the following elements:
– a single switch that lets you choose between two drive modes: diesel or electric.
– a modern diesel engine mutually developed with our partners.
– a fully electronically managed and maintenance-free electric motor/generator, when driven by the diesel engine it is charging the batteries and supplying power to on-board consumers. The two components are integrated into one unit, thereby saving space and weight. The eM/G is coupled to a specifically developed gearbox with our well chosen partners.
– a hydraulic clutch between the diesel engine and the electric motor/generator.
– an inverter/charger that charges the battery in the shore power mode and delivers a 230 V AC power supply throughout the boat at all times.
– a solar array delivering green electric power to the batteries during daytime. No cost and emission-free sailing is possible at low speed.
– a Lithium battery pack (same as the one driving your mobile phone or laptop computer). Lightweight and compact (seven times lighter and one third of lead battery size) these batteries are rated at thousands of cycles. With a life expectancy of 10 years they represent the best choice for a hybrid boat.
The Eyachts team had yet to see the highly regarded Greenline 45 and with so many customers interested we decided to fly to Slovenia to take a look. Both Dan and Marnie stepped aboard for the first time and were in awe of the incredible size of the boat, it really...
read more