New Axopar 37 Revolution Features
First Impressions and changes
Every single millimetre of the new Axopar 37 range has been redesigned from the hull to the handrails, yet the dimensions are the same, it's like magic…
With 380 changes in this new and improved model, you'll get more…
space •speed • efficiency • performance • visibility • versatility • silence • sharp turns • higher and flatter • multifunctional social areas • onboard functionality • comfort • light • volume • openness • innovation • modern • unique • leisure • adventure • options
Axopar have listened and have answered your prayers!
But with so many improvements let us give you a taste for our favourites…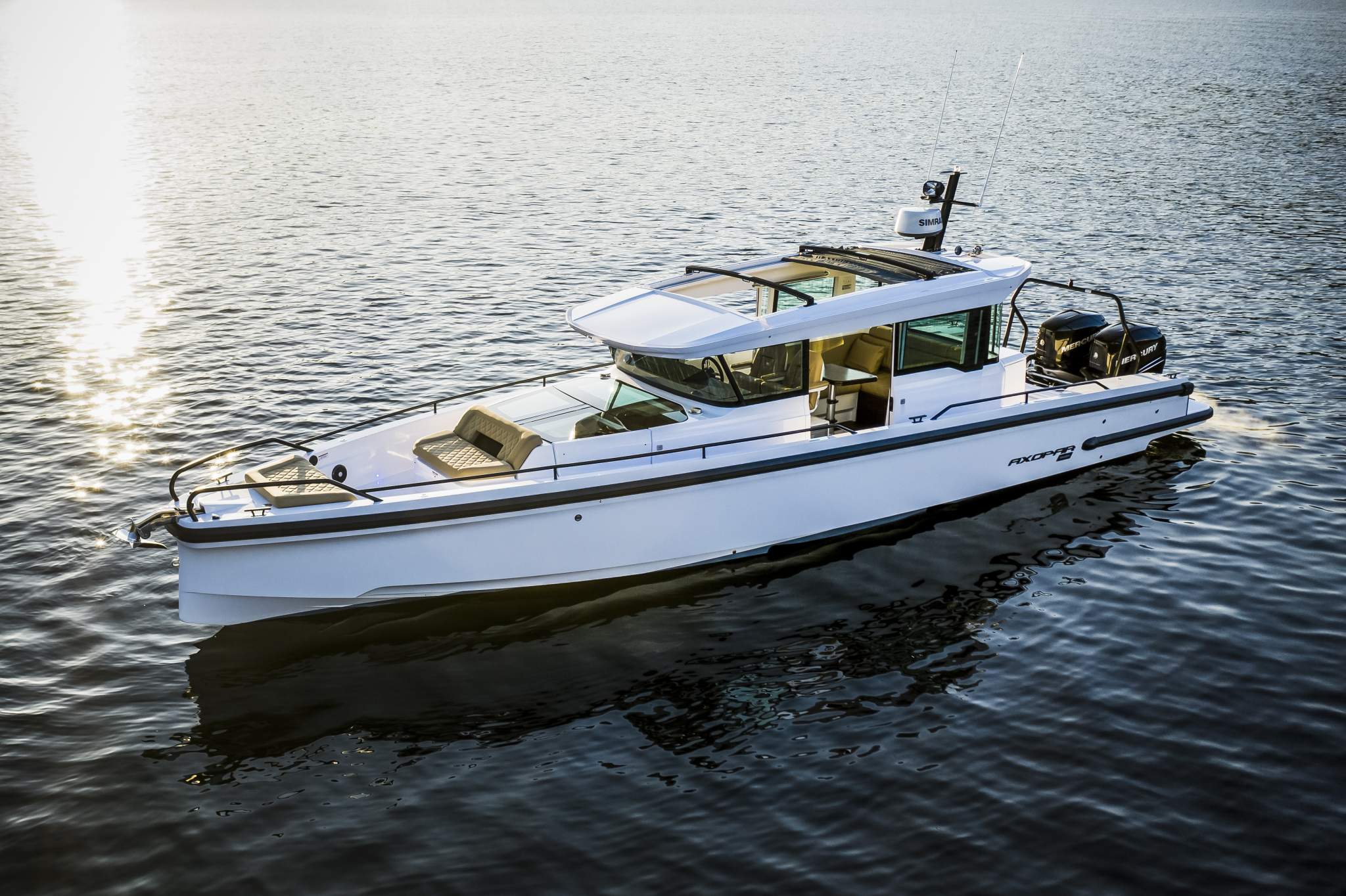 AXOPAR 37 X CABIN
Axopar 37 X Cabin now has far more room inside, the rear window has been redesigned to increase visibility and everyone that hops onboard agrees that this vessel really gives an incredible indoor/ outdoor flow.
AXOPAR 37 X SUN TOP
Some new winning features of the Sun Top is more speakers which have now been more cleverly placed for better sound, as well as more fridges in smarter places for access.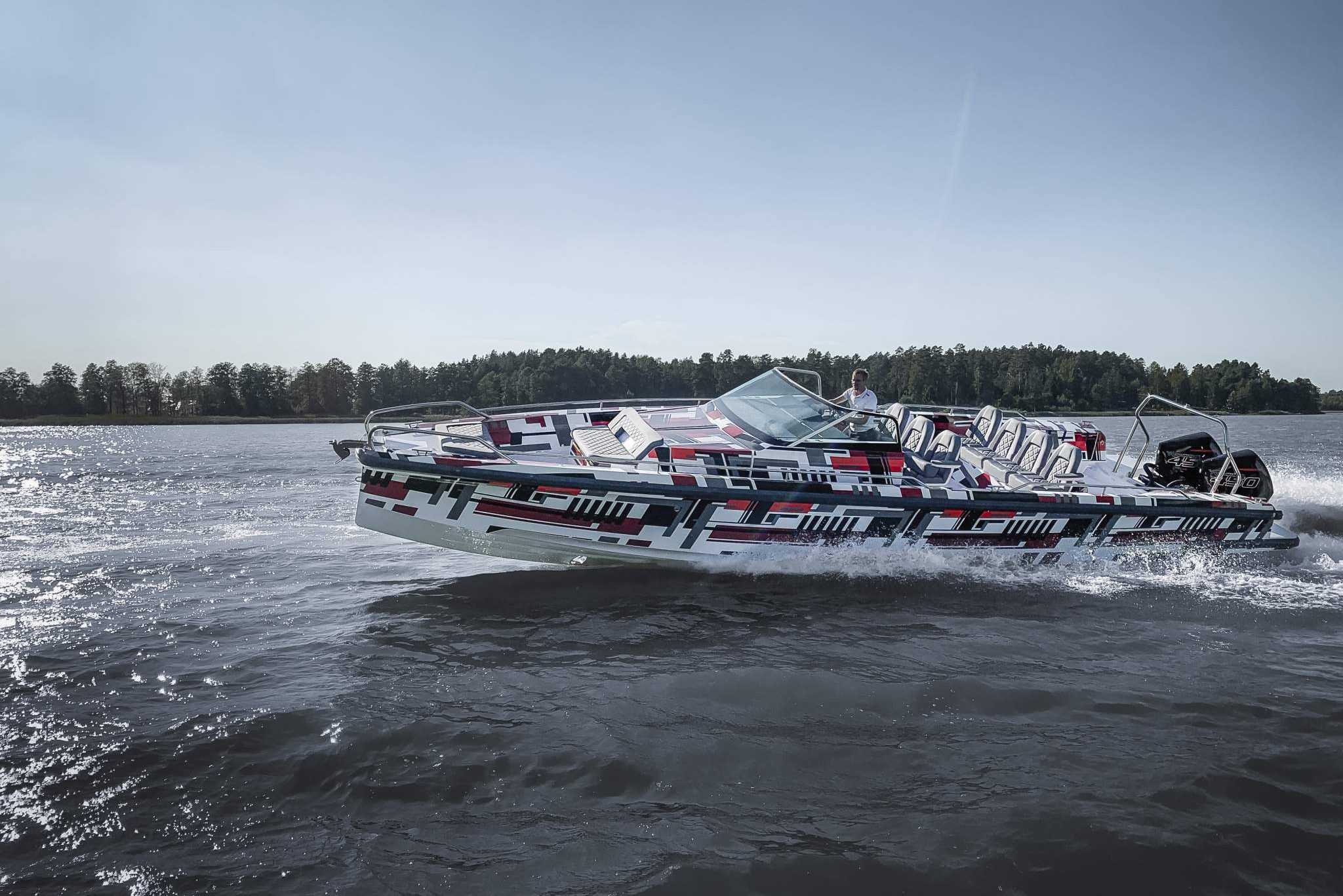 AXOPAR 37 SPYDER
The Axopar 37 Spyder is a completely new model targeted towards the real driver, the person who wants to feel the wind and all the elements. There is now a bimini which will flow over the entire vessel so you can be protected at rest.
KEY REVOLUTIONARY FEATURES…
Starting from what makes Axopar one of the best performing vessels on the water, the hull.  Jarkko Jämsén and the team at Axopar have redesigned the hydrodynamics of the hull so it rides smoother, faster and creates less drag, meaning less fuel consumption, along with many more revolutionary changes that are so subtle yet make for huge improvements.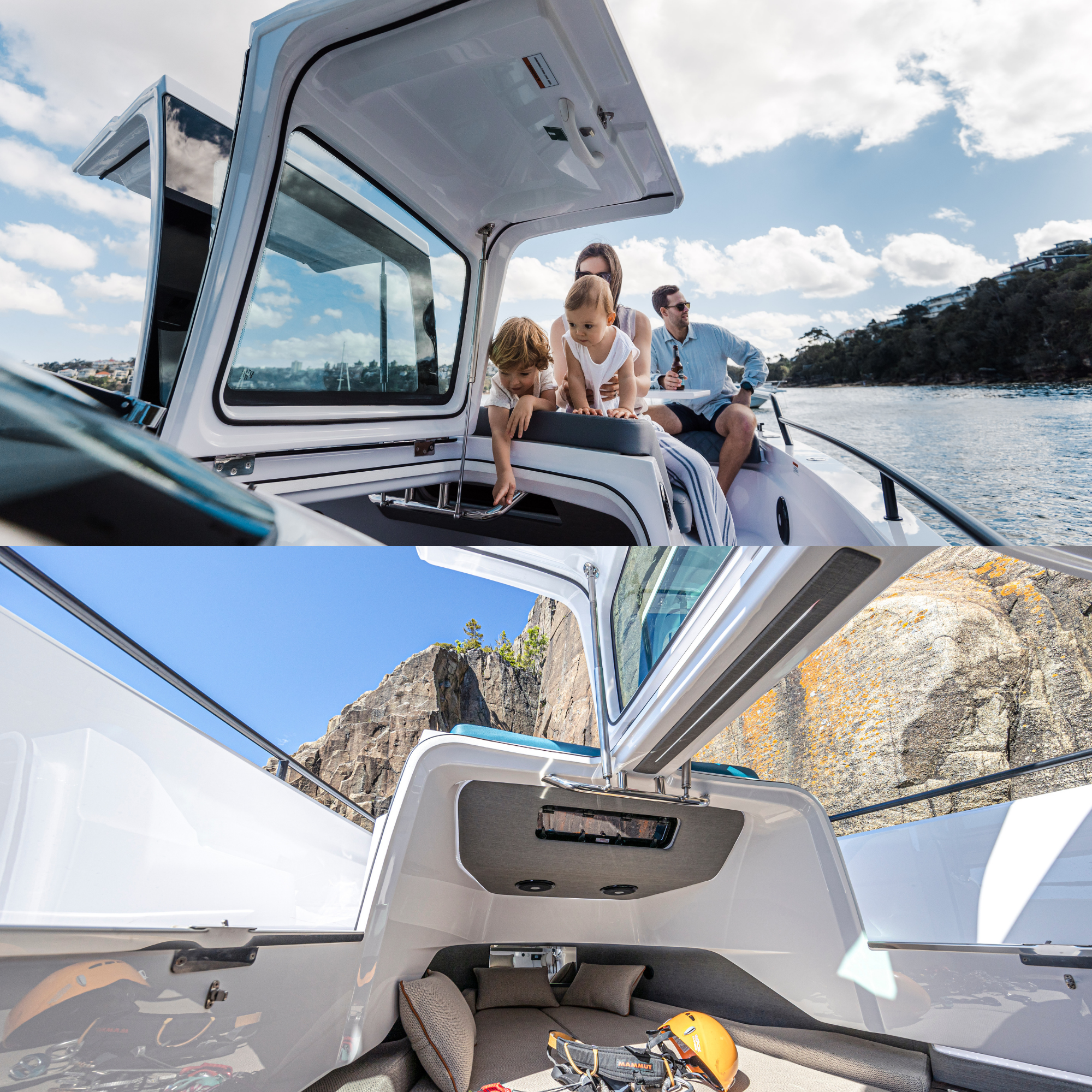 GULL WINGS
The "gull-wing" doors are a standout. They have been designed to allow a lot of natural light into the cabin and it works! They have created another nice living space which feels airy and spacious. It is finished with nice grab handles inside and self-opening gas struts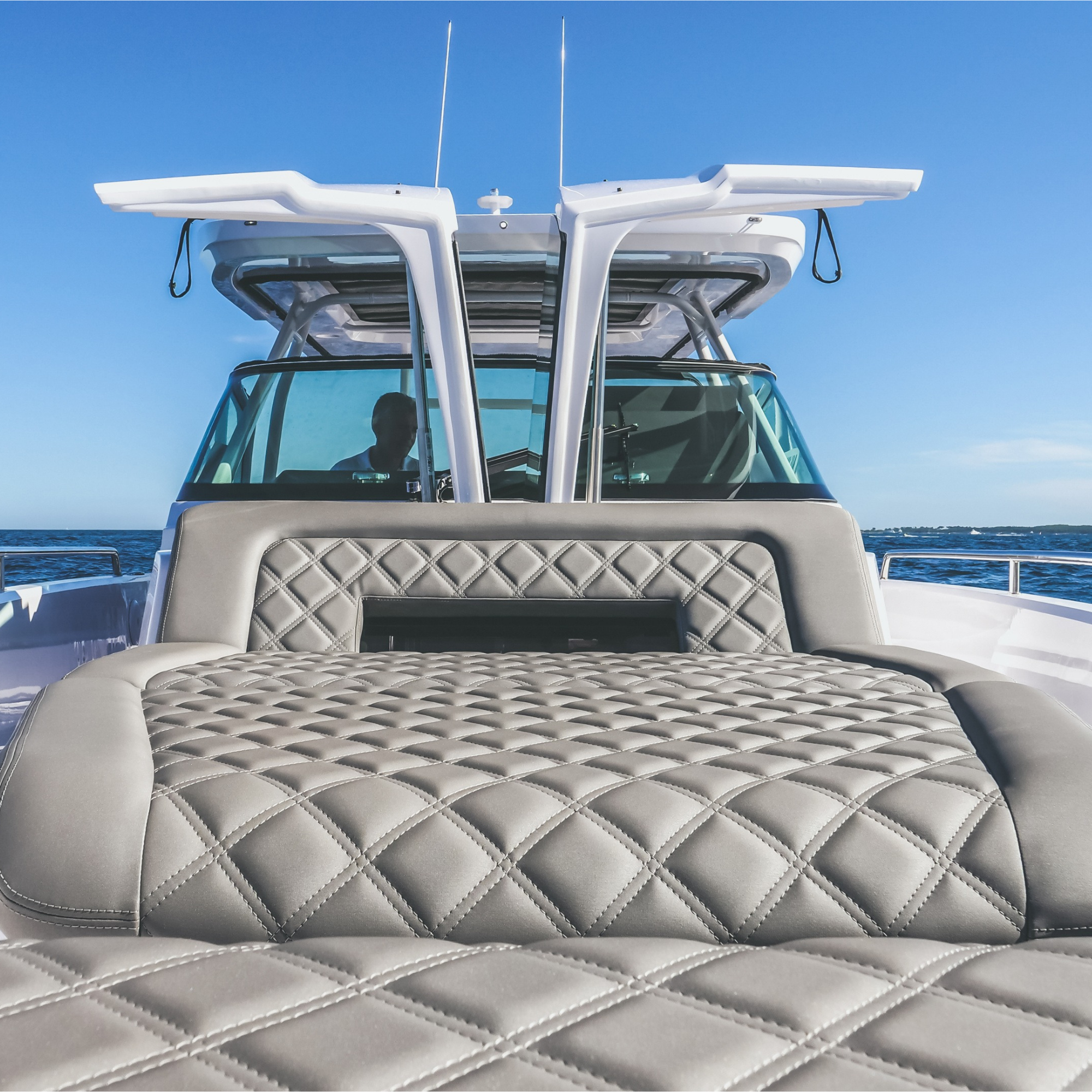 BOW AREA
In the bow section, there is an option of either a sunbed or seat and table, both making this area super functional and social. The anchor locker has been redesigned and is extra large and with room for fenders.
SEPARATE TOILET/ SHOWER
The separate toilet/shower is definitely a real winner as compared to the previous model offering full privacy. Opt for this spacious bathroom instead of the lounge and hidden toilet. With direct access from the cabin or from the helm.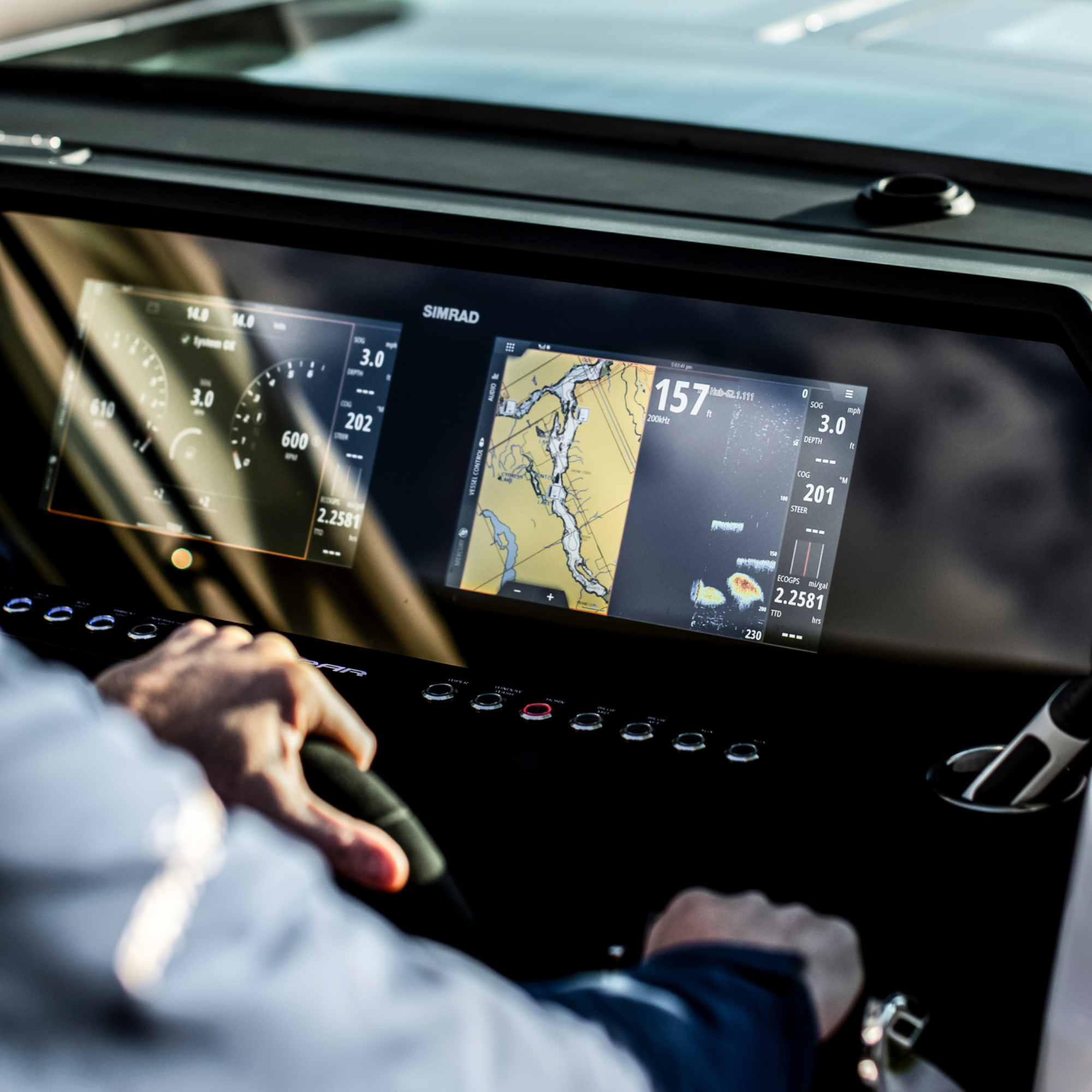 GLASS HELM
Axopar now partner with Simrad with a clear focus on creating clean helms which are easy to navigate. Take your helm station to a whole new level with the seamless and luxurious look of the glass helm option.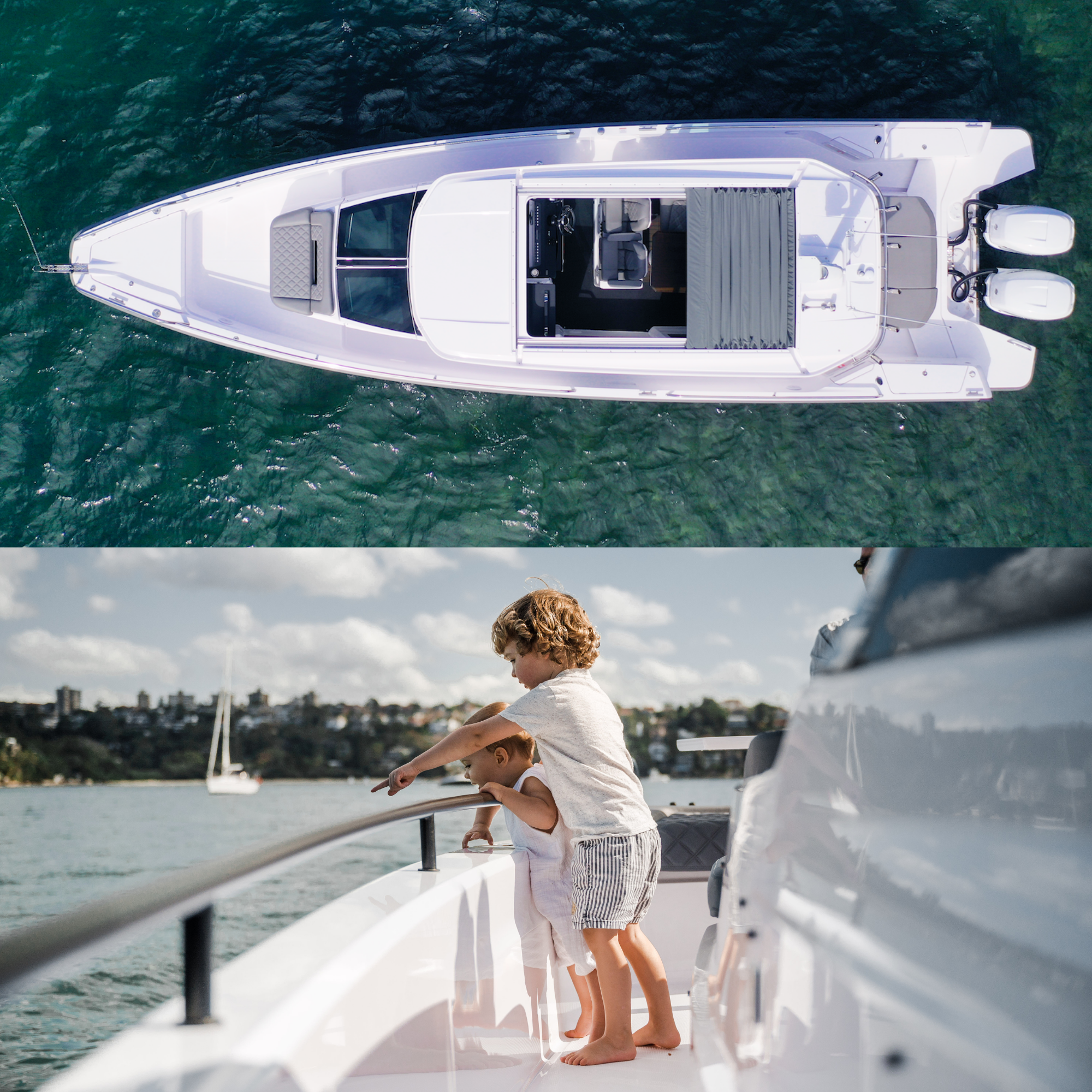 MORE SAFETY
The new XC and XST have an integrated roof drain which doubles as a secure handhold. The entire vessel is also fitted with far more railings and grips as well as higher bulwarks so you feel extremely safe at all times.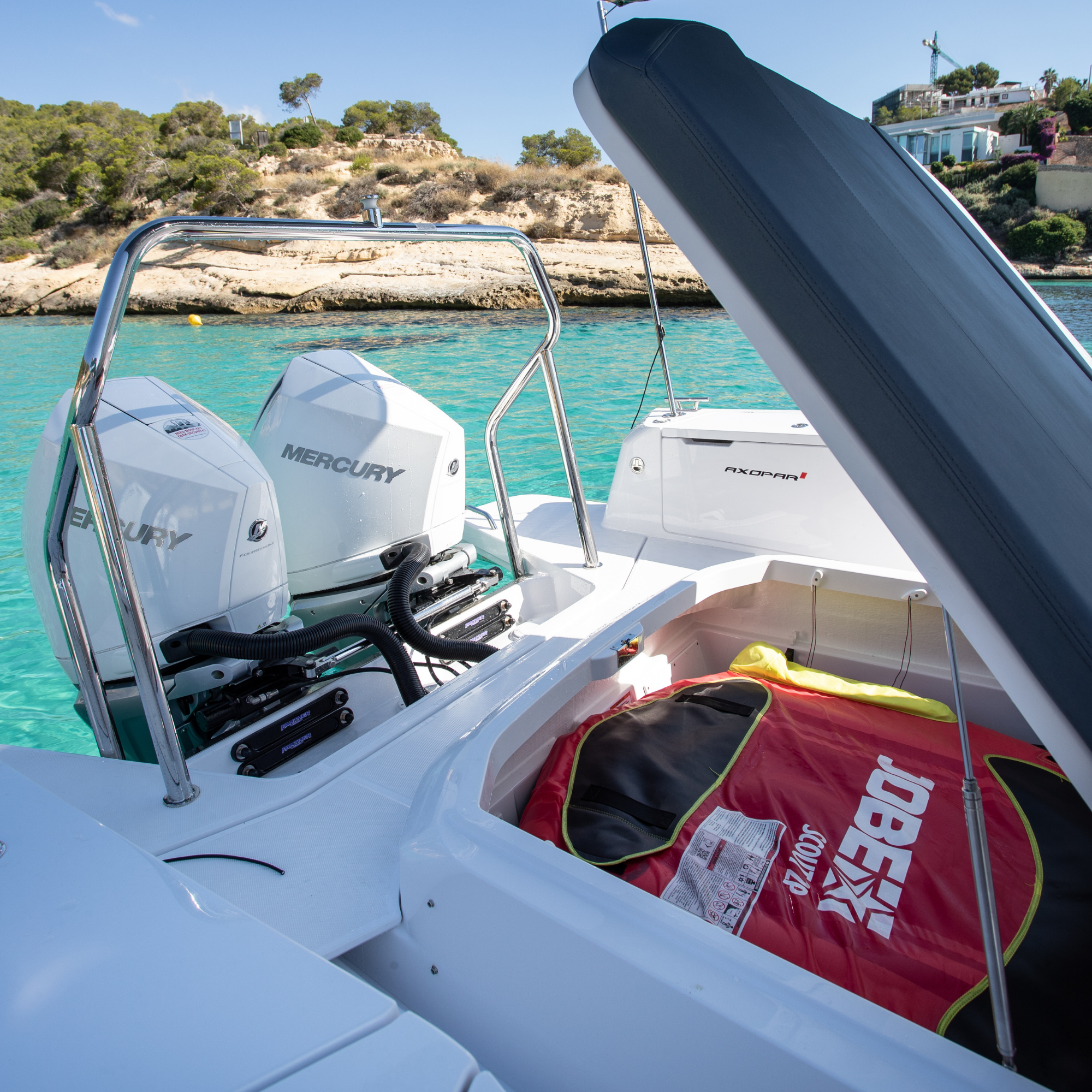 MULTISTORAGE UNIT
Large storage compartment on aft deck for storage of  gear. Lockable large hatch in double sided gelcoat and gas strut supports. 
WARM WATER SYSTEM ONBOARD
Warm water system 16L heated on shore power only, outlets depending on your boat configuration. 
SOLAR BATTERY TRICKLE CHARGER SYSTEM
100W solar panel installed to front part of the roof. Maintains service batteries when boat is left off-grid for extended time periods.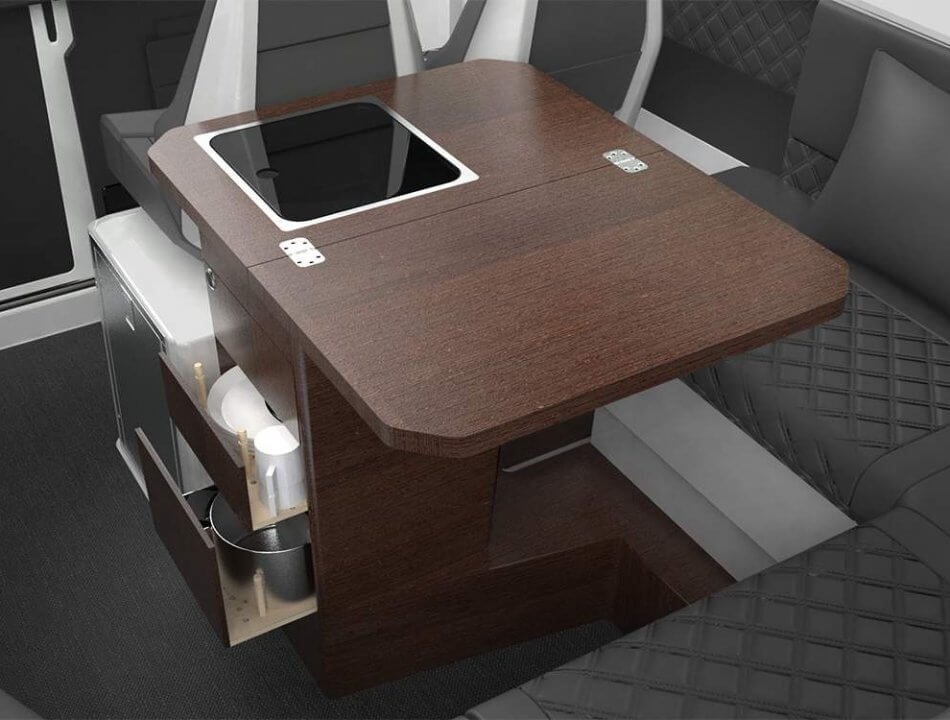 KITCHEN MODULE IN XC
The fixed kitchen module comprises a foldable tabletop, three drawers for storing cutlery, sink, tap and optional induction or gas cooker.
"On the water, these changes came to life. 50+ knots on the cabin (twin 300 V8's) and 63kts on the spyder with twin 450s (BRABUS Shadow test mule).
Brilliant handling as you'd expect and minimal bow rise when getting on the plane. On the 37 XC at 43knots, we went into a full lock turn. There was no propeller cavitation and the amount of grip was amazing. The new hull has lost none of what we love about them." – Marnie Ebeling after test driving in Finland.
SILVERTEX MARINE QUALITY COATED FABRICS
RECOMMENDED OPTIONS & UPGRADES
Silvertex marine quality coated fabrics.
A member of our team will prepare a quote and contact you shortly.