YYachts is at their core a sustainable company. The materials and processes used all have the environment at the forefront. Not only is sailing one of the most eco-friendly ways to travel but YYachts have worked to ensure the boats are designed to use low energy and do not overcomplicate by using unnecessary or underdeveloped technologies.
SUSTAINABLE YACHTS MADE IN GERMANY
Two of YYachts core principles are to build yachts as "Green" as possible and at the same time, as "Safe" as possible. Sustainability and environmental friendliness are not just empty words at YYachts, it is one of their main pillars.
Be rest assured that YYachts will not integrate developments on board just because it is new and fancy. YYachts components have to be reliable and authentic products that make sense, bringing multiple benefits onboard.
The wind is free, and sailing is one of the cleanest and most eco-friendly ways to travel. YYachts are making concrete efforts to reduce the use of fossil fuels onboard, minimizing the environmental footprint, adopting organic materials such as flax, and focusing on waste reductions.
GREEN ENERGY
YYachts goal is to cover the electrical consumption on board primarily with CO2-free energy.
Light, flexible, and highly efficient photovoltaic panels mounted on the bimini generate up to 55% of the boat's daily energy requirement. Combined with the energy generated by the hydro-generator, the average daily consumption can be completely supplied by renewable energy.
The YYachts YC is implemented with an innovative system to recover electrical energy during sailing. Thanks to special blades under the keel which are towed and set in motion while sailing, it is possible to come up with a green alternative to avoid diesel generators and their downsides.
The extra-large battery banks enable the air conditioning to run in eco mode throughout the night with enough backup energy to wait the wind and sun the following day. Our yachts are future-proofed, ready to integrate hydrogen fuel cell systems as soon as commercially available.
SUSTAINABLE MATERIALS
YYachts use the most sustainable materials wherever possible in the construction and finishing of their boats.
YYachts throughout the years has implemented many innovations, such as replacing the Teak decks with Lignia wood, natural wood with a much lower environmental footprint. This wood is an alternative to the classic Burmese Teak deck heavily involved in deforestation. Lignia wood is awarded the FSC label for its sustainable management and it also has greater wear, water salt, UV and wind resistance than traditional Teak.
Other new and innovative developments such as sandwich materials made of flax or recycled PET bottles are implemented in YYachts to substitute the traditional constriction materials. They bring several advantages in regards to weight, noise absorption, strength and fireproof resistance.
LUXURY IS SIMPLICITY
YYachts interior designers are working with a variety of fabrics and alternatives to leather. They use compressed paper-based material for countertops, and this creates a modern and practical surface. It is also easy to maintain and repair on floorboards or walls.
Entering a YYacht is a completely new sensory fully rounded experience. Your view will be stimulated by a breath taking design but also by natural smells released by the natural perfumes of fine wood essences, leather, Alcantara and natural sustainable fibres from the upholstery.
ENERGY EFFICIENCY
Building a sailing yacht is in itself environmentally friendly. Since YYachts foundation the shipyard has already implemented several challenging projects in terms of sustainability. For the Siemens Foundation, for example, they built a "green" explorer yacht for research into climate change, which is now operated by the Max Planck Institute. In this project, they gained a lot of experience in how to integrate electric and hybrid drives.
In order to combine the credo of simplicity with a quiet and environmentally friendly ship, YYachts prefer to improve its autonomy. Instead of implementing complex high-voltage propulsion systems that can have unpredictable interactions with our carbon yachts and overwhelm normal crews, they operate the yacht with two engines, each with an extra alternator, which charges the large battery banks in less than ten hours. In addition, they install solar panels on the fixed bimini, which provide a further four to eight kilowatts of charging power during the day. And as a further source of energy, the "hydro drive" generates energy from the pure power of sailing at up to 7.5 kilowatts. That is YYachts philosophy for a reliable and sustainable yacht.
WEIGHT EFFICIENCY
YYachts know that speed can only be achieved with lightweight construction. That is why YYachts are optimized in all details for low weight.
Cutting-edge modern design demands hulls and rigs in high-performance carbon, with an interior largely in modern sandwich construction, yet with the traditional look and feel of solid wood. YYachts innovative construction methods provide a lightweight advantage over conventionally built yachts, improving overall sailing properties. Particularly evident in the light and medium winds of the Mediterranean, YYachts continue to provide fun sailing when others are left to motor sail.
YYachts are timeless and state-of-the-art.
THERMO BALANCE
The coach roof is a cornerstone feature of all YYachts essential to guarantee a remarkable quantity of light in the saloon with a 360° view to the sea. Thanks to vertical windows and special ray-reflecting glass this avoids the overheating of the saloon and cabins below deck. In the summer days, the sun rays will never get directly inside the saloon, compared to the traditional angled windows.
Moreover, due to the prominent coach roof shapes over the vertical windows will ensure that only the light will come in filtering direct scorching sun rays. This feature ensures high energy efficiency, so the boat requires less energy to be cooled down in hot climates.
In that regard, the coach roof in its horizontal components is highly thermally isolated with composite sandwich materials to protect the interiors from the external summer heat and temperature fluctuations.
Therefore, it means a reduction in fuel consumption, less noise since generators and inverters will remain off for most of the time. The onboard energy supply is well calculated and the use of large battery banks in combination with large solar panels and a hydro generation system allows the yacht to be used even without a generator nearly all day and night.
Silence is golden.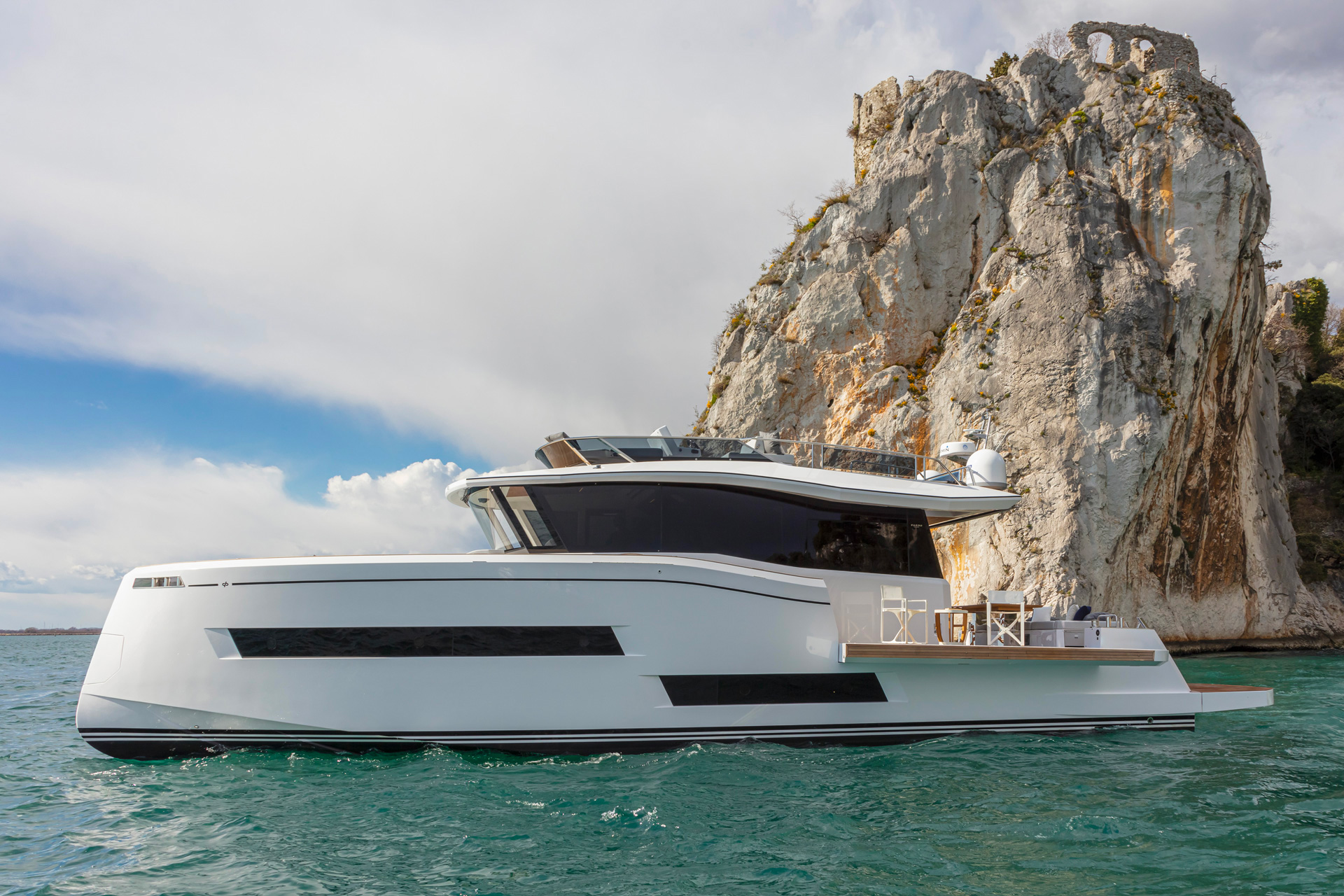 Peter Hrones had a last minute opportunity to walk through the Pardo Endurance 60 in St Tropez. Take this virtual tour as he explores the boat for the first time.
read more