First Axopar 37 Experience
Marnie Ebeling writes on her first Axopar 37 experience, what it felt like flying at 40 kts in a 2 metre offshore swell and what happened when the boat reached 58 kts heading into Pittwater.
Something I like to boast about is the fact that I 'set foot' on a boat before I could even walk. Yes I was a two week old bubba sailing in a life jacket bigger than my body frame. However, despite 21 years of experience sailing, I probably only broke top speeds of 12.5 kts.
A few weeks ago I was given the opportunity to jump onboard the Axopar 28 T-Top and go whale watching outside Sydneys heads. I was immediately impressed by the stability of this 28 ft boat in the rough conditions. This feeling was exceeded by the impressive performance of the Axopar 37.
Last Monday I was sent out to deliver an Axopar 37 Sports Cabin from The Spit to Pittwater. What would typically take our sailing yacht 8 hours took the Axopar a short 25 minutes travelling at a cruising speed of 40 kts, off shore.
As we flew through the two metre swell, over taking the waves before they had the opportunity to crash, I couldn't wipe my cheek-to-cheek smile. The stability and comfort I felt despite racing at such speeds is unexplainable. You would expect to be frightened but the Axopar honestly glides through the ocean like melted butter on toast.
On our way we spotted a seal floating in the waves, a whale pop its head out for a moment and as we turned into Pittwater we were pleasantly greeted by my favourite animal, dolphins.
The calm waters of Pittwater allowed us to step things up a notch climbing to a top speed of 58 kts, that's as fast as a car would want to travel on the highway! I would have never imagined this level of adrenaline from a 37ft boat.
Overall, my first experience on board the Axopar 37 was unmatchable to any other and I couldn't recommend it more highly to anyone.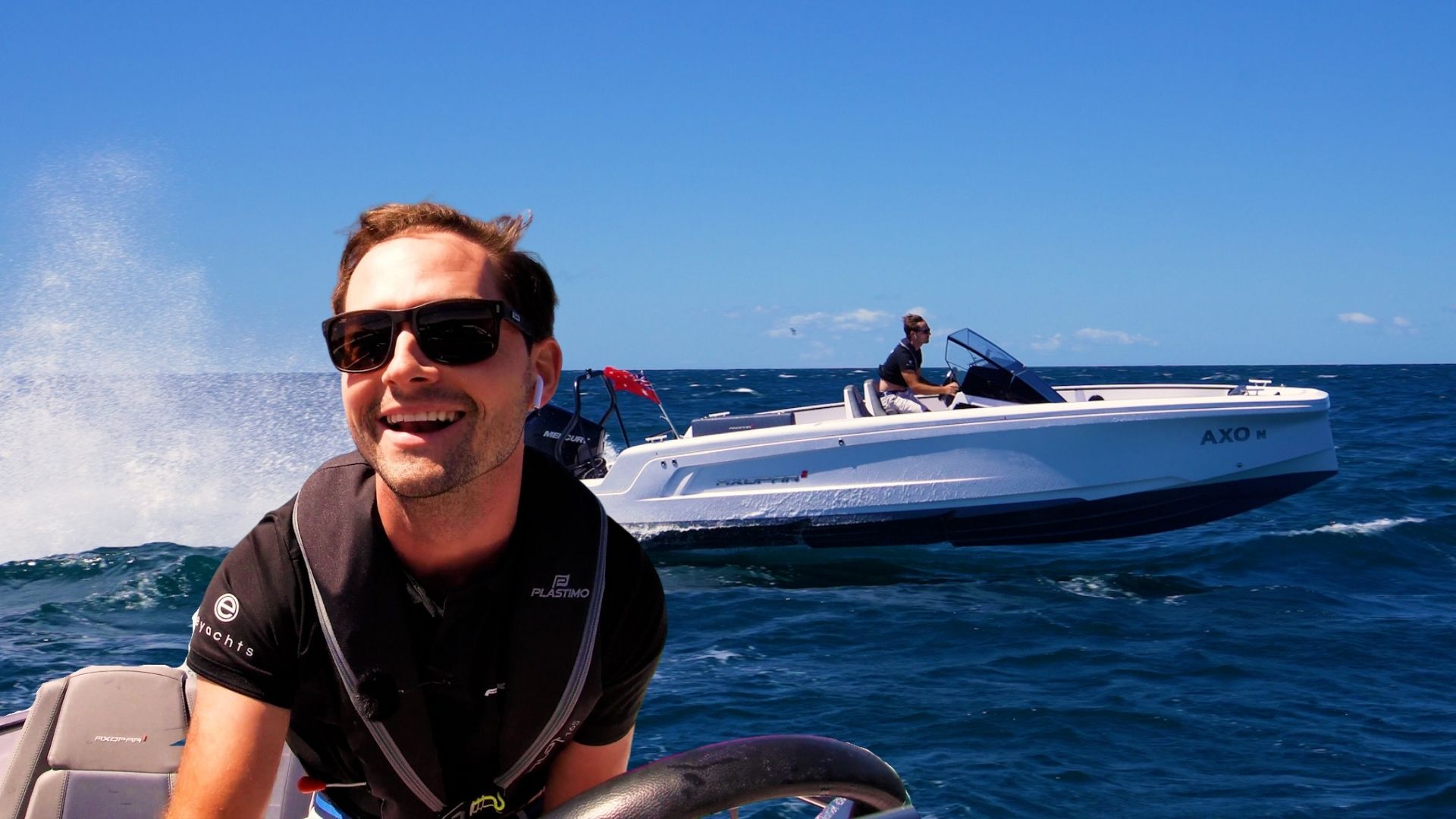 Joe Fox tests the Axopar 22 in the conditions it was made for!
If you know Sydney Heads you would know that this area is known for having turbulent seas. Combine a 1.5-2 metre southerly swell with a 30kt westerly and you have the type of mess that will really put this 22 ft dayboat to the test!
read more