European Pickup
Pickup your Greenline Yacht in Europe, explore the Adriatic and then get it sent back to Australia.
An established concept with a fresh twist…
For decades' sail boat companies have been doing European pick-ups. Not only are many of the world's best boats built in Europe but Europe is also home to some of the most picturesque waterways.
The Adriatic and Mediterranean Sea are the ideal locations for a coastal summer holiday. If you want to get the full experience, exploring hidden coves and quiet bays the only way to do it is from the comfort of your own boat. Not only will you see more but you will save on transport and accommodation.
The other reason European pick-ups are so popular for Australians is our geographic location that adds initial delivery time and costs. However, when the time comes Eyachts will organise your yacht to be shipped back to Australia with reduced imputing costs.
This combination of savings as well as the ability to explore European waterways on your own terms is why Eyachts have decided to be the firsts to offer this opportunity for motor yachts.
Money Savings…
Not only will you save on the initial delivery costs associated with the voyage to Australia but you can also save on winterising in the Med. Your savings on winterising in Europe could potentially pay for you and your families flight back to the boat when summer comes.
When the time is right we can organise to get your boat shipped back to Australia at a reduced importing cost.
Time Savings…
Getting a boat delivered in Australia not only takes time in itself but it relies on Eyachts booking slots, whereas you might be able to get almost instant pick up times if you decide to travel to Europe to take ownership yourself.
Additional Eyachts benefits
Eyachts will be with you every step of the way…
Helping decide which yacht model best suits your needs
The best time to take delivery
Where to winterise
Where to service
Travel suggestions
An Eyachts team member will be at your pickup location to ensure the handover goes smoothly and you feel comfortable on board your new yacht.
Two nights accommodation in a 5 star hotel on arrival (all included)
We will ensure this is a stress free process…
Pickup Locations
The factories for both Greenline and Sealine make them the perfect yachts for this pickup.
These yachts have been built for a European excursion so why not use them for it before bringing them back to your homeland.
Greenline
Greenlines factory in Slovenia is in prime location to take on a Croatian tour. One of the most popular expeditions Australians undertake in Europe is a boat cruise throughout Croatia, so doesn't it just make sense to launch your own boat in this unreal location.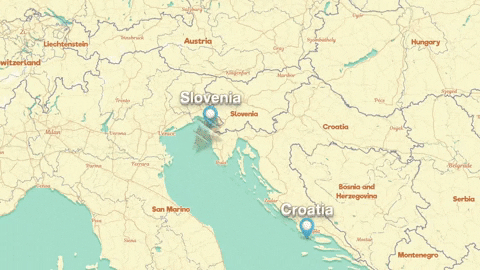 Customer Stories
The Whites
Richard and Suzie White are the first Australians to take on Eyachts European Delivery on their own Sealine C430, White Spirit.
The stunning new vessel is now ready in Mallorca for the couple to pick up and take off.
We sat down with the pair to discuss their plans and why they decided to launch their yacht in Europe.
Richard and Suzie White are the first Australians to take on Eyachts European Delivery on their own Sealine C430, White Spirit.
The stunning new vessel was in Mallorca, this is where the journey began…
Last we heard the Whites had enjoyed a few months travelling around Mallorca…
In this post, we advise some awesome places in Europe, visiting family and exploring Croatia, telling you where you can visit…
After travelling around Europe, the couple returned to their beautiful boat and were joined by their two children.
The family all took advantage of their time together, relaxing and taking in the Spanish serenity.
Imagine the adventure with Greenline