Experience the all-new Axopar 45 Sun Top (ST) – a vessel meticulously crafted to redefine your boating adventures. Seamlessly blending the thrill of open-air exploration with the comfort of sheltered spaces, this boat promises an unforgettable journey on the water. Revel in the exhilarating feeling of taking the helm, then unwind in the generous social areas onboard.
The Axopar 45 Sun Top stands as a testament to the perfect day at sea, meticulously engineered for functionality, drivability, comfort, and safety. It ranks among the most versatile boats in the market, boasting the confidence to venture anywhere, making it an ideal choice for extended explorations. The helm offers a modern, spacious, and open design, ensuring captains navigate with assurance while passengers remain connected to the natural world around them. Its sporty aesthetics not only enhance its visual appeal but also deliver an unmatched driving experience for a boat of its size, offering unobstructed views from every angle.
With the modular layout of the Axopar 45 Sun Top, you have the freedom to configure the boat to your liking. Optional features further elevate its appeal, such as the comfortable U-sofa on the aft deck, which includes two additional storage boxes and a backrest cooler for added convenience during leisurely lunches. For those seeking adventure to the fullest, consider spending the night in the optional aft cabin. Explore boundless customization possibilities and embark on a journey like no other with the Axopar 45 Sun Top.



| | |
| --- | --- |
| | |
| | |
| | |
| | 2 persons (with optional aft cabin 2+2) |
| | |
| | |
| | |
Tell us what you're interested in and a member of our expert team will contact you shortly.
SILVERTEX MARINE QUALITY COATED FABRICS
RECOMMENDED OPTIONS & UPGRADES
Silvertex marine quality coated fabrics.
A member of our team will prepare a quote and contact you shortly.
Boating Magazine – March 2023
Axopar's 45 XC Cross Cabin is based on the same hugely successful formula as its smaller sisters, the 37, 28, 25 and the entry-level 22—but this one's on steroids.
YachtBuyer – April 2023
In this walkthrough tour and review by YachtBuyer, shot during the 2023 Düsseldorf Boat Show, Jack Haines sees if this is the most comfortable cruising boat in the impressive Axopar line-up.
Yachts Croatia – July 2023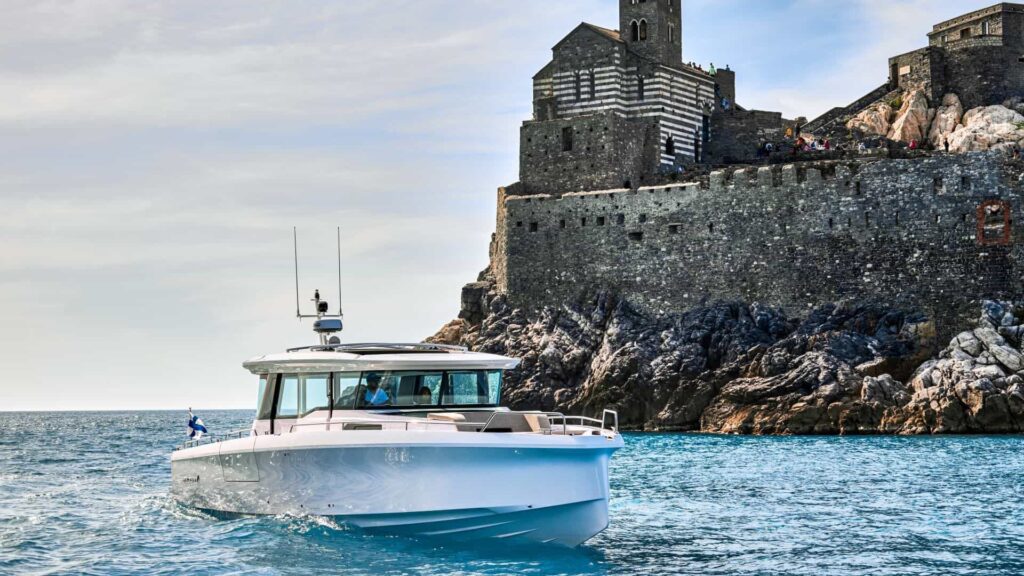 Axopar 45 XC Cross Cabin boasts elegant Scandinavian interiors and innovative solutions is the ideal boat for unbridled adventurers.
Experience the Ultimate Adventure with the Axopar 45 Sun Top – a versatile and luxurious boat designed for thrilling high-speed maneuvers and comfortable relaxation. In this blog and walkthrough video, discover its standout features, including roof racks, integrated solar panels, luxurious cabin space, and an impressive helm station.
read more