Oh the places you'll go on an Axopar 28
Owner Review by JimAfter taking delivery of their new Axopar 28 T-Top in Sydney on Jim's birthday last year, the Tsaganas family spent virtually every weekend and a full week in January on the boat clocking up about 70 running hours. They cruised, fished, tubed, wake and knee boarded, you name it, they do it.Jim has now just delivered her to his Queensland residence on the Gold Coast for winter and plans to get out on her every day.Jims kids came up with the Axopar's name "Oh the places you'll go" after the famous Dr Suess story."That's how we feel about the Axopar, its limitless" says Jim.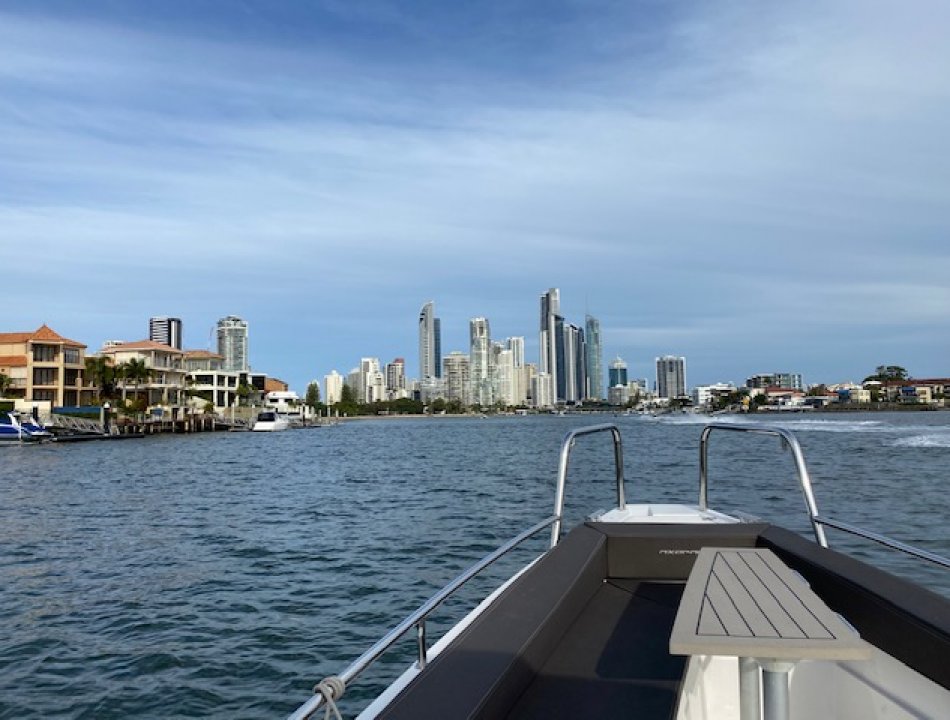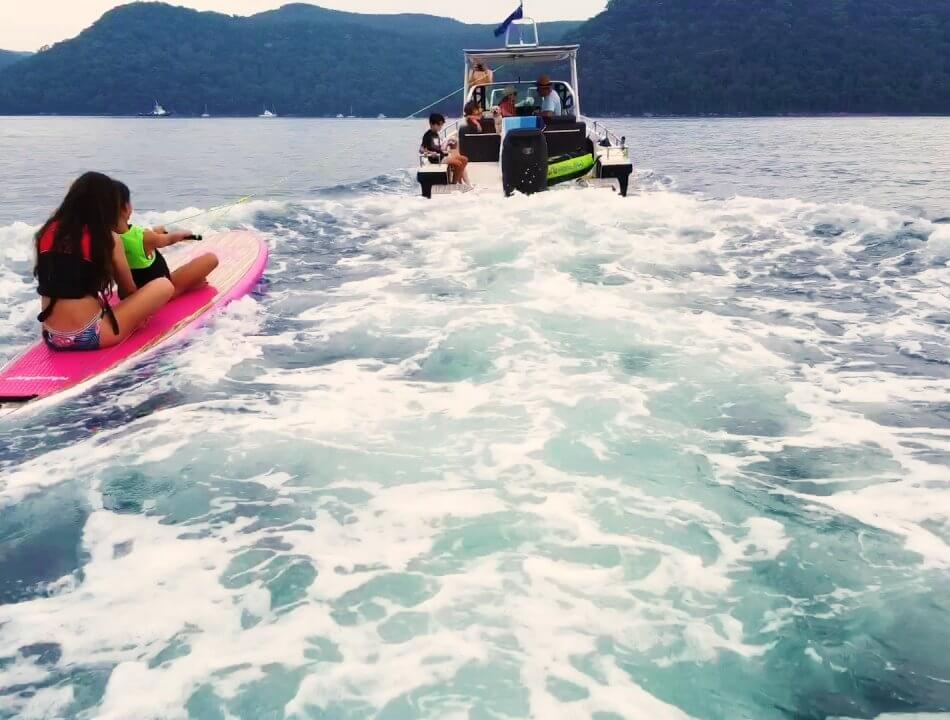 "Just like many other Axopar owners, I've had and been on many boats (It's my vice), I can say, no other boat inspires such confidence and security on the water. They are producing a fantastic product and the sales to date prove that. Congratulations Axopar.The boat gets so much attention up on the Gold Coast (did I mention the colour!) People are asking me questions all the time, all of which have a similar response: "I've had a few boats, this is the best!"Well done to you and the Eyachts team, keep up the good work."
What is your favourite thing about your Axopar?
Ease of use, walk around decks, fuel efficiency, hull dynamics and ride quality. My partner loves it, she wasn't a confident boatie until she spent a few days out on Pittwater. Now on the Gold Coast, she's happy to come out through the seaway into the ocean! My partner's 6 year old is quickly becoming an experienced boatie, loves it, Its a really safe boat for kids and dogs.
What is your favourite activity to do on your Axopar?
To be honest, there's a lot of noise and chaos in my life, my best times, selfishly, is when I'm alone cruising some remote waterway or at sea for an hour's peace. The Axopar really does that for me, crank up the tunes on the excellent Fusion sound system, sit back and take it all in.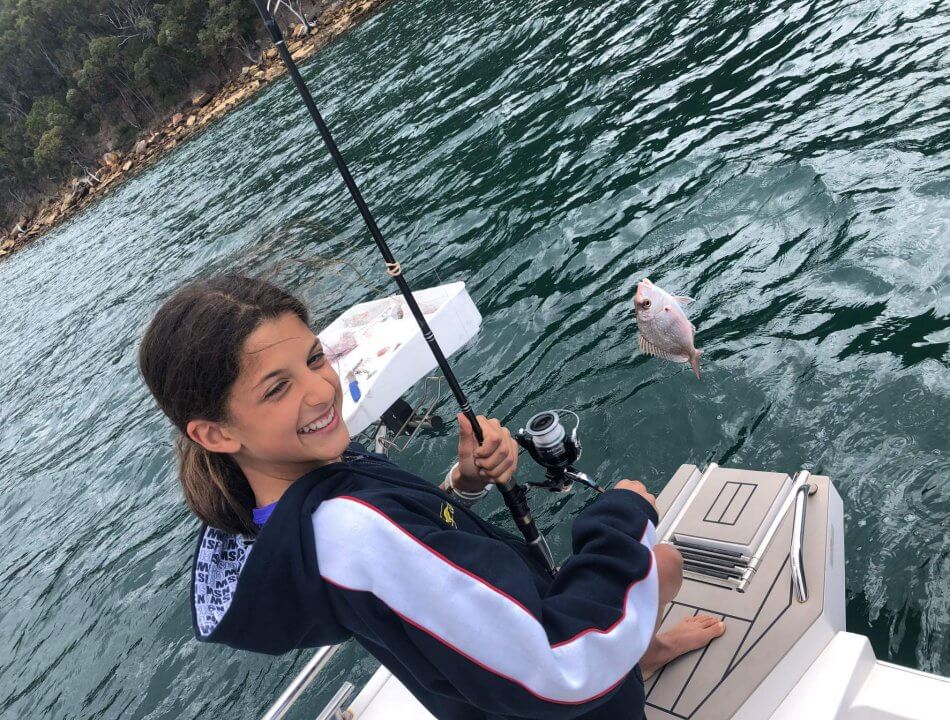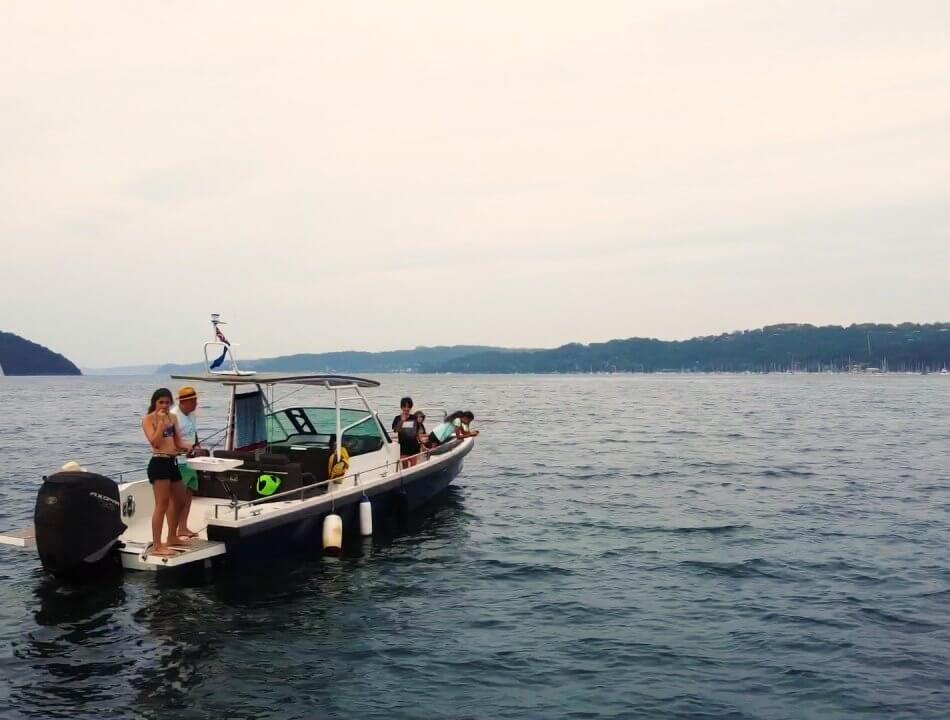 Is there a highlight day on board?
Best day to date would have been in late October last year, we were wake boarding with my 4 children near Akuna Bay when the kids asked, "can we go to the cliff jump on the Hawkesbury River? (place called Dad's Corner way past Wisemans Ferry)" I replied, "it's pretty late in the day and it's a pretty long way however, if you promise to do the jump, we'll go".
The two older ones replied "sure"; so off we went. We rocketed up the river at about 34knots and arrived up there about an hour later. They did the jump, twice, the water was so warm there. Then we raced all the way back to Scotland Island arriving just on dark. That was an awesome and memorable adventure!
You do so many water sports on board why don't you get a ski pole?
I think the ski pole fitting restricts the rear area too much, we like the SUV feel down back, I have 4 teenage children and 4 toy poodles! Ad a few friends that tag along and its a busy boat indeed.
Subscribe to our mailing list