SUPREME COMFORT & PERFORMANCE
Introducing the Axopar 45 Cross Top, a remarkable fusion of the Sun Top and Cross Cabin models that seamlessly marries the best aspects of open-air freedom and enclosed comfort. Designed to elevate your boating experience, this exceptional vessel boasts a distinctive negative-angle wraparound windshield. This innovative feature not only shields you from the elements, including wind, rain, and glare, but also delivers unparalleled all-around visibility and enhances navigation precision. It's the ultimate choice for both seasoned adventurers and boating professionals alike.
The Axopar's modular nature, coupled with our forward-thinking approach, empowers you to personalize your boat's aft layout to suit your daily requirements. As a standard feature, the Axopar 45 Cross Top comes with an Aft Sofa on its expansive open aft deck, but you also have the option to choose a U-sofa or an Aft Cabin configuration to match your preferences and lifestyle. Additionally, regardless of your selected layout, a wetbar is available as an optional feature.
Within the cockpit, you'll discover an expansive social space replete with comfortable lounges and retractable wings that unveil a fold-out table, providing ample seating for up to 10 guests. This delightful setting is complemented by a standard wetbar featuring four refrigerators, a sink, and an optional grill. The Axopar 45 Cross Top beckons you to explore a realm of limitless customization possibilities, promising to elevate your boating experience to unprecedented heights.
Setting the standard for drivability, the Axopar 45 Cross Top offers a host of unique onboard features that will inspire you to embark on longer journeys and explore farther horizons, regardless of the weather conditions. With a reputation for outstanding hydrodynamics, this vessel not only excels in fuel efficiency but also provides a sporty, nimble feel that belies its size. Experience the Axopar 45 Cross Top and redefine your boating adventures today.



| | |
| --- | --- |
| | |
| | |
| | |
| | 2 persons (with optional aft cabin 2+2) |
| | |
| | |
| | |
Tell us what you're interested in and a member of our expert team will contact you shortly.
SILVERTEX MARINE QUALITY COATED FABRICS
RECOMMENDED OPTIONS & UPGRADES
Silvertex marine quality coated fabrics.
A member of our team will prepare a quote and contact you shortly.
Boating Magazine – March 2023
Axopar's 45 XC Cross Cabin is based on the same hugely successful formula as its smaller sisters, the 37, 28, 25 and the entry-level 22—but this one's on steroids.
YachtBuyer – April 2023
In this walkthrough tour and review by YachtBuyer, shot during the 2023 Düsseldorf Boat Show, Jack Haines sees if this is the most comfortable cruising boat in the impressive Axopar line-up.
Yachts Croatia – July 2023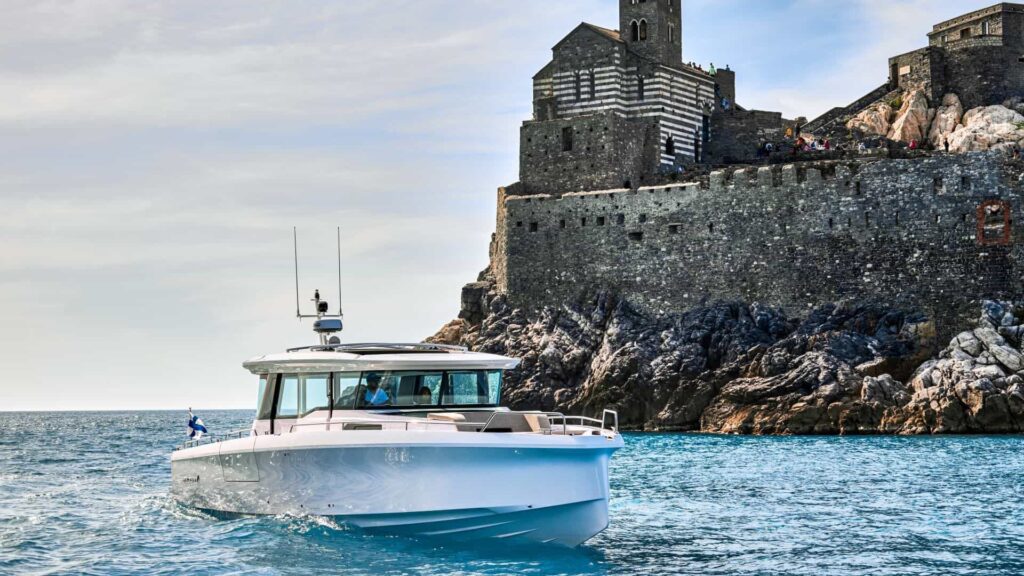 Axopar 45 XC Cross Cabin boasts elegant Scandinavian interiors and innovative solutions is the ideal boat for unbridled adventurers.
Experience the Ultimate Adventure with the Axopar 45 Sun Top – a versatile and luxurious boat designed for thrilling high-speed maneuvers and comfortable relaxation. In this blog and walkthrough video, discover its standout features, including roof racks, integrated solar panels, luxurious cabin space, and an impressive helm station.
read more