Dave O'Connor's Axopar 28 T-Top Adventures!
Back in November, Eyachts, the Australian Axopar dealer, handed over a 350HP Axopar 28 T-Top to Gold Coast local Dave O'Connor. With a life lived in the country, Dave has found a new obsession with boats since moving to the coast three years ago, immediately getting his boat licence and first sports cruiser. Dave loves change, owning 20 to 30 motorbikes and cars over his lifetime. However, boats are his 'new thing' and he will soon upgrade to the Axopar 37 Sun Top.
When the family discovered they weren't using the cabins on their previous boat, they decided to make the change to a day boat. Owning a waterfront property, they found it was too easy to just step on board and take off for a few hours, coming back to sleep in their own bed. Dave was immediately drawn to the layout of the Axopar, "with no cabin, it is just so open," says Dave. His daughters also love the separate bow head and opting for the aft cabin meant additional storage and sun lounge. "Being quite fair skinned we also decided to get the bow awning so I can hide from the sun."
"What really sold the Axopar was the incredible quality performance, especially in choppy water", Dave says, "I don't have to worry about the weather or conditions, I can take the Axopar out whenever I want. There will never be a change in the quality of performance, and even at speed, everyone is always comfortable on board. As the other boats slow down for the rough waves and wind, I'm able to maintain cruising at 30kts."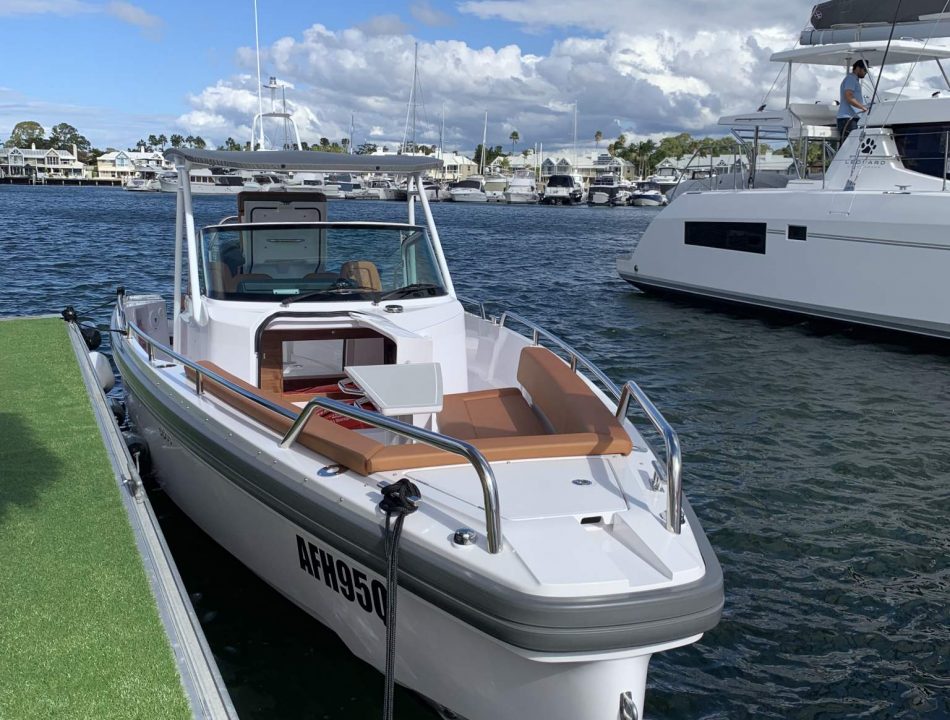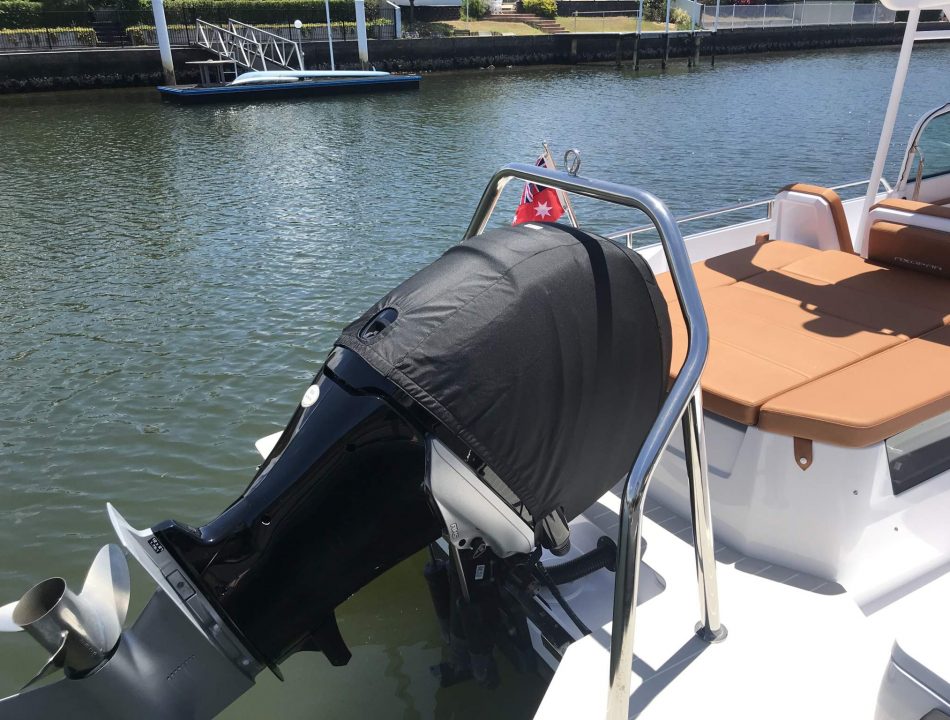 Dave admits that he just loves going really fast, with a max speed of 47kts, the Axopar easily gets from A to B within minutes. Dave also mentions how impressed he is with how economical the boat is using only 50L an hour while cruising at 28kts. "My previous boat would rob me of about $800-900 every time I filled up fuel. I can't even remember the last time I filled up my 300 litre tanks." Dave added, "Maintenance is also very inexpensive as there aren't many complex gadgets on-board and one single outboard is much easier to maintain than my previous two inboard engines."
Daves 'old school' neighbour was skeptical when he first saw Dave roll up to his dock with the new boat, stating "you'll get wet." After heading out in not so ideal conditions, he was in disbelief, unable to fathom the innovative bow and hull design that was about to keep the pair incredibly dry.
"The boat is just so different, it is an attention grabber, that's what I love about it," Dave admits, "every time I take the boat out everyone stops and looks amazed thinking 'how do they do that!', sometimes people even take photos and videos".
Working shifts means that when Dave's home he can usually go out on the water during the week and often goes alone, however most of the time his Australian Kelpie, Arthur barks demanding to be taken, loving the wind in his face. Luna, Daves Border Collie often gets left behind as she moults too much.
Being away for two weeks at a time he daydreams about being out on the water, and as soon as he lands back home, he will usually head out on his Axopar. Dave describes the feeling of relief and relaxation that he gets from being by the sea, a notion he consistently craves. Although he's not a hugely avid fisherman, Dave recently purchased some rail-blazer equipment which he finds are less intrusive than other systems and means he can now throw a line out whenever he desires.
Despite spending 50% of his time on the boat alone, Dave really loves entertaining, often going out with his wife Melissa and two daughters on the weekend or taking out friends for a BBQ. They love to zip out to Runaway Bay, taking only around 10 minutes, or across to North or South Stradbroke Island where there is plenty of protection and opportunities to explore or grab some food at Tipplers. They love to adventure or go tubing, zipping out as far as Peel Island and Southern Norton Bay. These locations were previously not accessible to Dave. However, the Axopar's high speed and short 0.7 draft means there is no concern about shallow waters. "I also love beaching the boat when the tide is right; it's a big boat that you can treat like a small boat."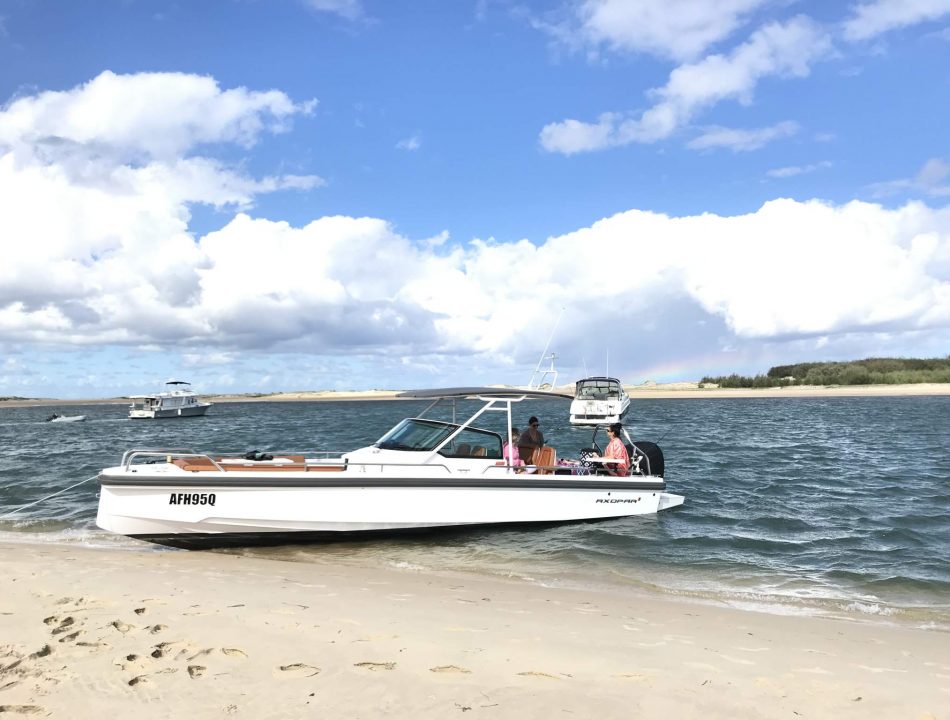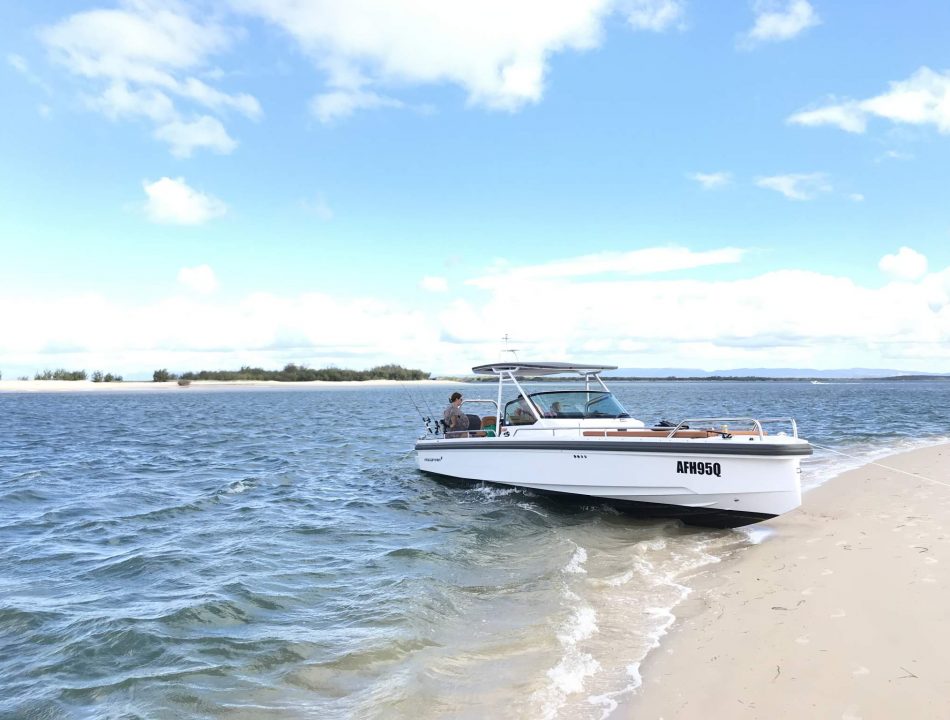 Dave and Melissa plan to make an overnight trip, at Tipplers Passage, bringing a gas cooker and treating it more like camping. They also plan to go offshore as they want to test the boat in rough conditions, going as far as Aloomer and Tanglers wreck to dive on the artificial reefs. The family also recently purchased a jetski which they intend to tow out and use once at anchor.
"My most fond memory on the boat so far has to be going out to Paradise Point for the New Years Eve fireworks with 6 of our good friends. We packed picnic style food and drinks and lay it out on the aft cabin top. We listened to live music from the shore for hours before heading home at 1 am."
"I've had lots of fun toys in the past, but the Axopar is no doubt the biggest and best toy I've ever had."
UPDATE: Dave has since purchased an Axopar 37 Sun Top followed by an Axopar 28.