Sleek, stylish and luxurious
When it comes to marine wear it is important to get the best of the best…
It's no secret Axopar has built a well established reputation of high-end boats, they are now matching this with high-end apparel.
Now you can purchase quality clothing and accessories that will have your friends saying "where did you get that?"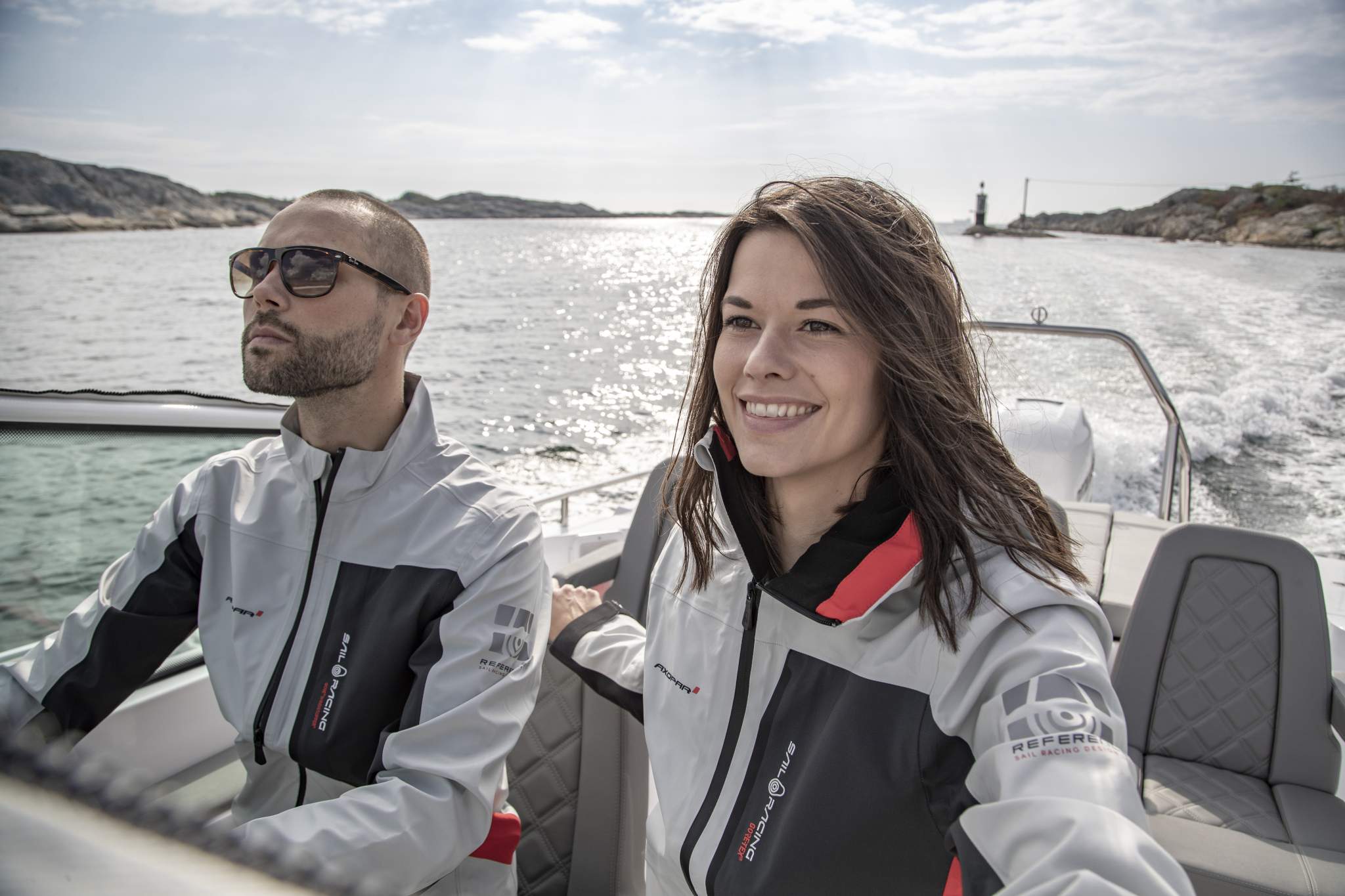 Win against the elements
With the all new wet weather jacket you will be protected from wind and water. When it comes to quality jackets that really will keep you dry you know you can trust Sail Racing. This is why Axopar partnered with Sail Racing to make the perfect jacket for you to wear aboard your boat.
Reference Light Jacket constructed in a 3-layer GORE WINDSTOPPER® fabric. Micro tape on all seams, which makes the jacket waterproof. Sleeve cuff in super-stretch laminated fabric with medical tape adjustment. YKK water resistant zipper and reflective parts at shoulders. Spacious chest pocket and two waist pockets. Sail Racing logo graphic at chest and at back yoke. Axopar logo graphic.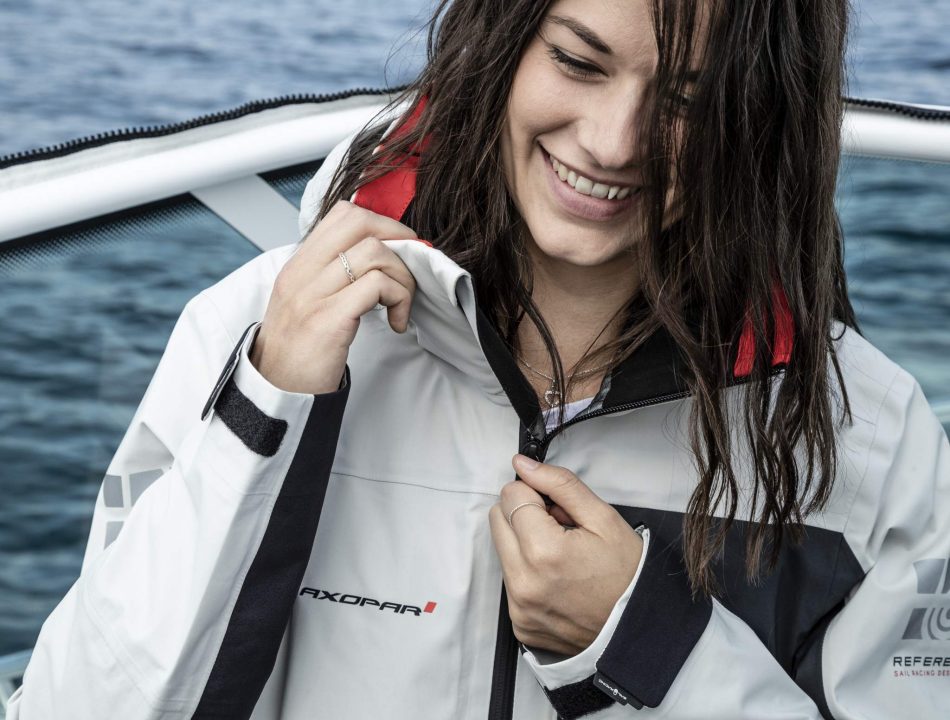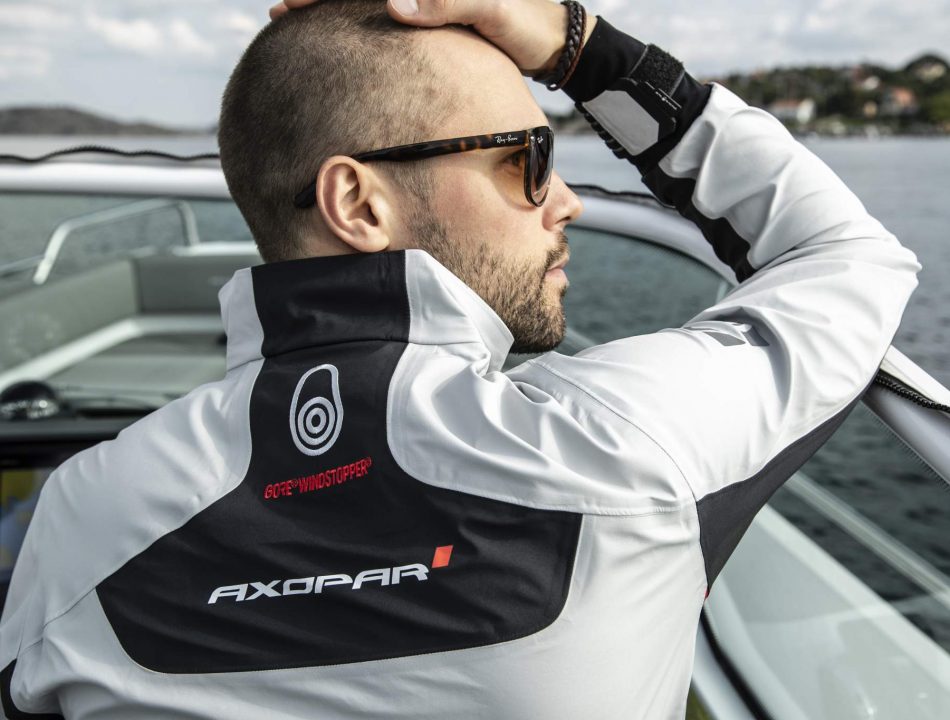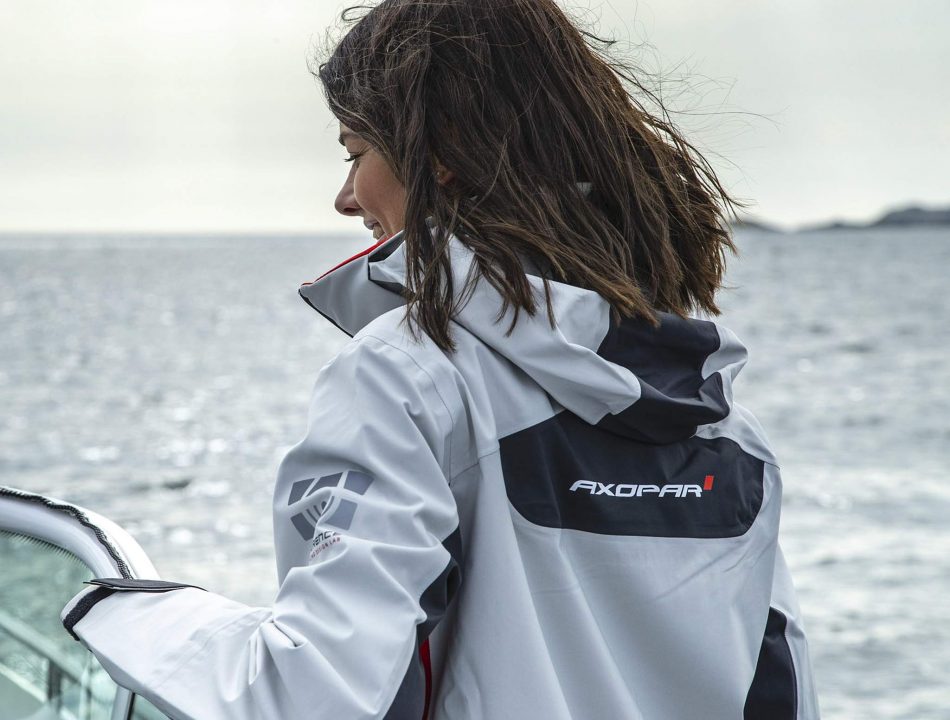 Warmth and resistance
Take your Axopar out in any weather without the fight. Women want to keep warm while looking fresh and now they can with a stunning white softshell jacket.
Women's Link Softshell in polyester with 5000/5000 MVP, which makes the jacket highly breathable and water resistant. A feminine cut waist with hand pockets on both sides with zip. Sail Racing logo print at shoulder seam, soft rubber badge at sleeve and a bloc logo print at the back of the neck. Fleece lined hand pockets for warmth and great comfort. Link this Softshell Jacket with the water- and windproof GORE-TEX Link Hood or Coat to get a functional, comfortable and warm 2-in-1 combination. Axopar logo graphic.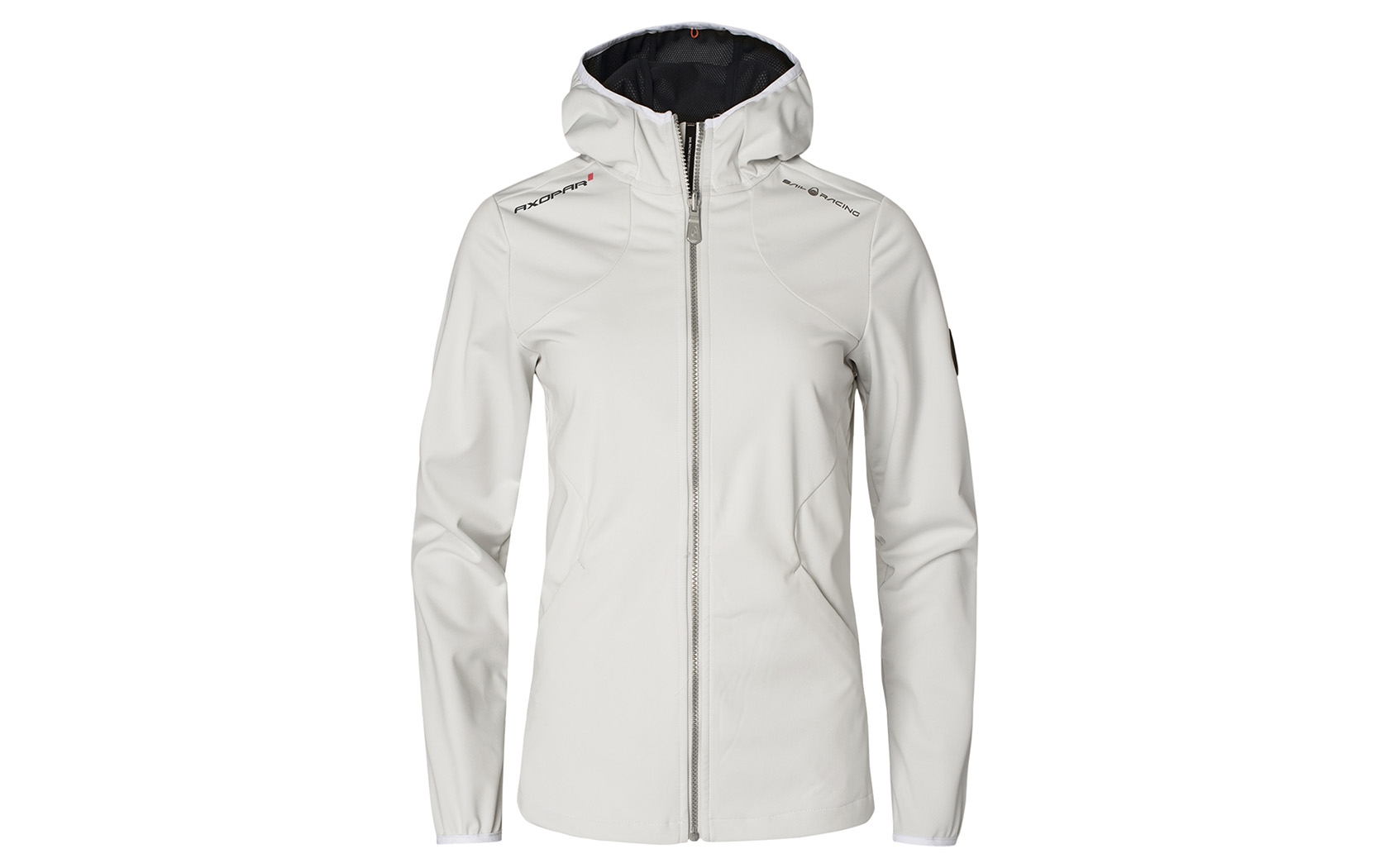 Look cool and Stay safe
Don't be the dag in a puffy life jacket, the newly designed Floater Vest is the perfect alternative, keeping you just as safe while looking like you're in a normal vest.
The Floater Vest is designed by Industrial Designer Peter Ejvinsson.
The vest has been award Winner of "Young Swedish Design" and displayed at Scandinavian House in New York, USA. It has been represented for good innovative Swedish design during Olympic Games in Sydney, Australia. The Floater Vest is cut fit, shaped like a goose-down vest by using segmented material for flexibility, comfort and more appealing look. AXOPAR logo print at chest.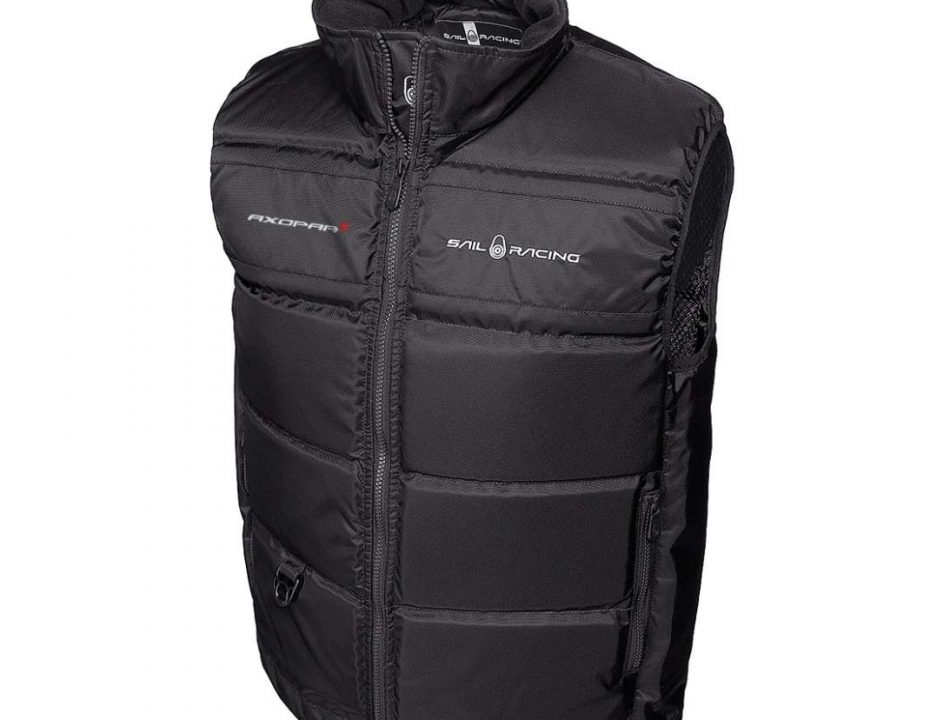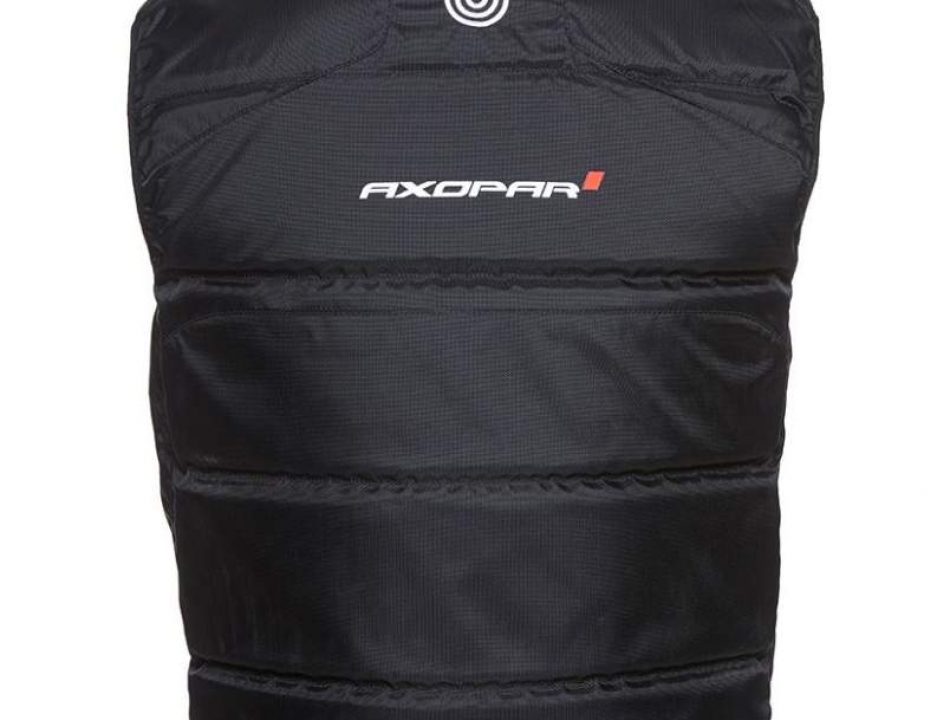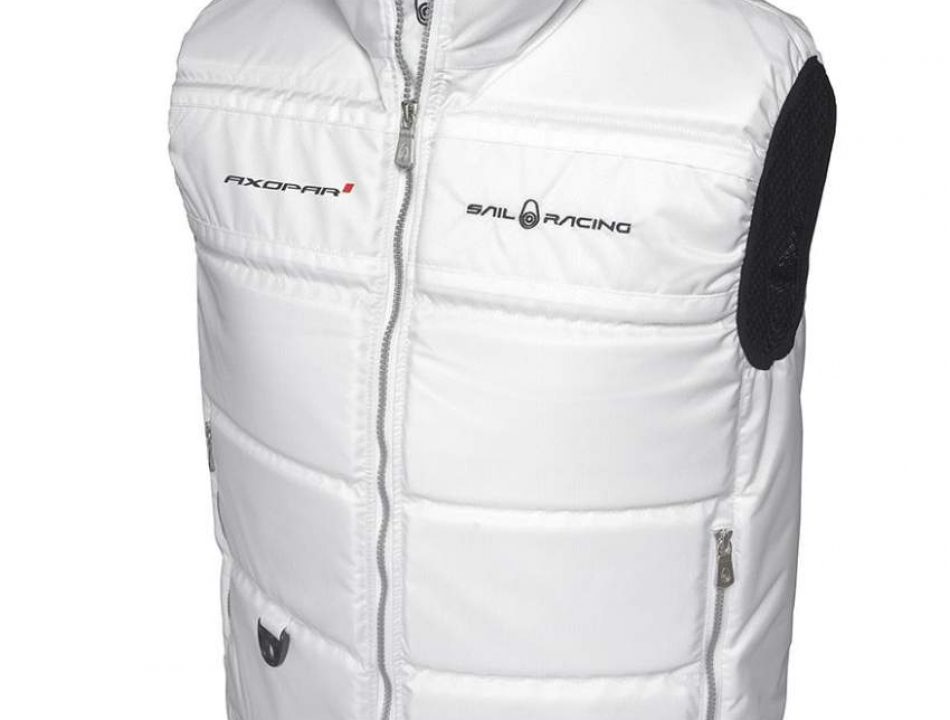 Sit swell
Finding the right pair of shorts that can be your go too for boating can be hard. You need to not only ensure you're on trend, but also look boaty, while remaining discrete. All this plus they need to ACTUALLY be water resistant and not make you sweat. This is why we think these Axopar branded black shorts made with 3 layers of gore fabric are a must have.
Reference Light Shorts made in 3-layer GORE WINDSTOPPER® fabric. Micro tape on all seams, which makes the shorts waterproof. Raised back in moulded neoprene with medical tape for adjustment. Reinforcement at back and YKK water resistant zippers. Spacious pocket at left leg and Sail Racing logo graphic at leg and at the back. Axopar logo graphic.
Up top
Isn't is just a necessity that all boat people have a nice, classy white polo shirt? Don't fit in with the crowd, stand out with this uniquely printed polo. P.s. it's actually soft and comfortable…
A classic fit polo shirt in cotton with a small Sail Racing chest embroidery and bloc embroidery at the back of the neck. Inside is a Sail Racing logo neck tape. Contrast colour at sleeve end stripe. Axopar logo graphic.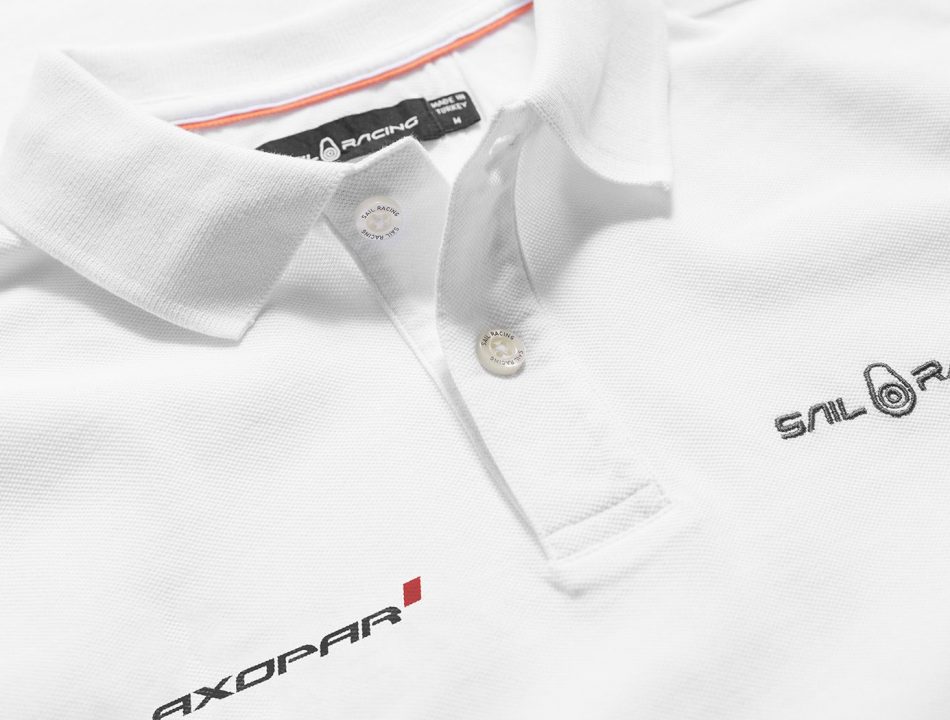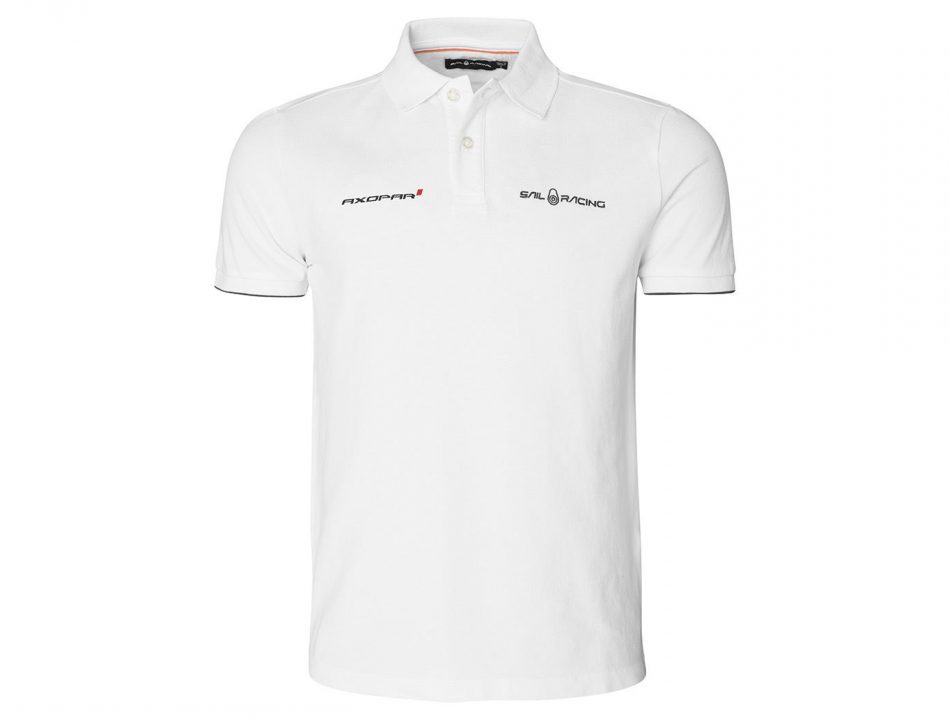 Protect yourself
We know the struggle of getting a cool looking cap… Will it look good, be functional and fit well? Rest assured this high quality hat will tick all the boxes.
A velded cap in cotton twill with 3d effect embroidery. 58 cm. Axopar logo print at front.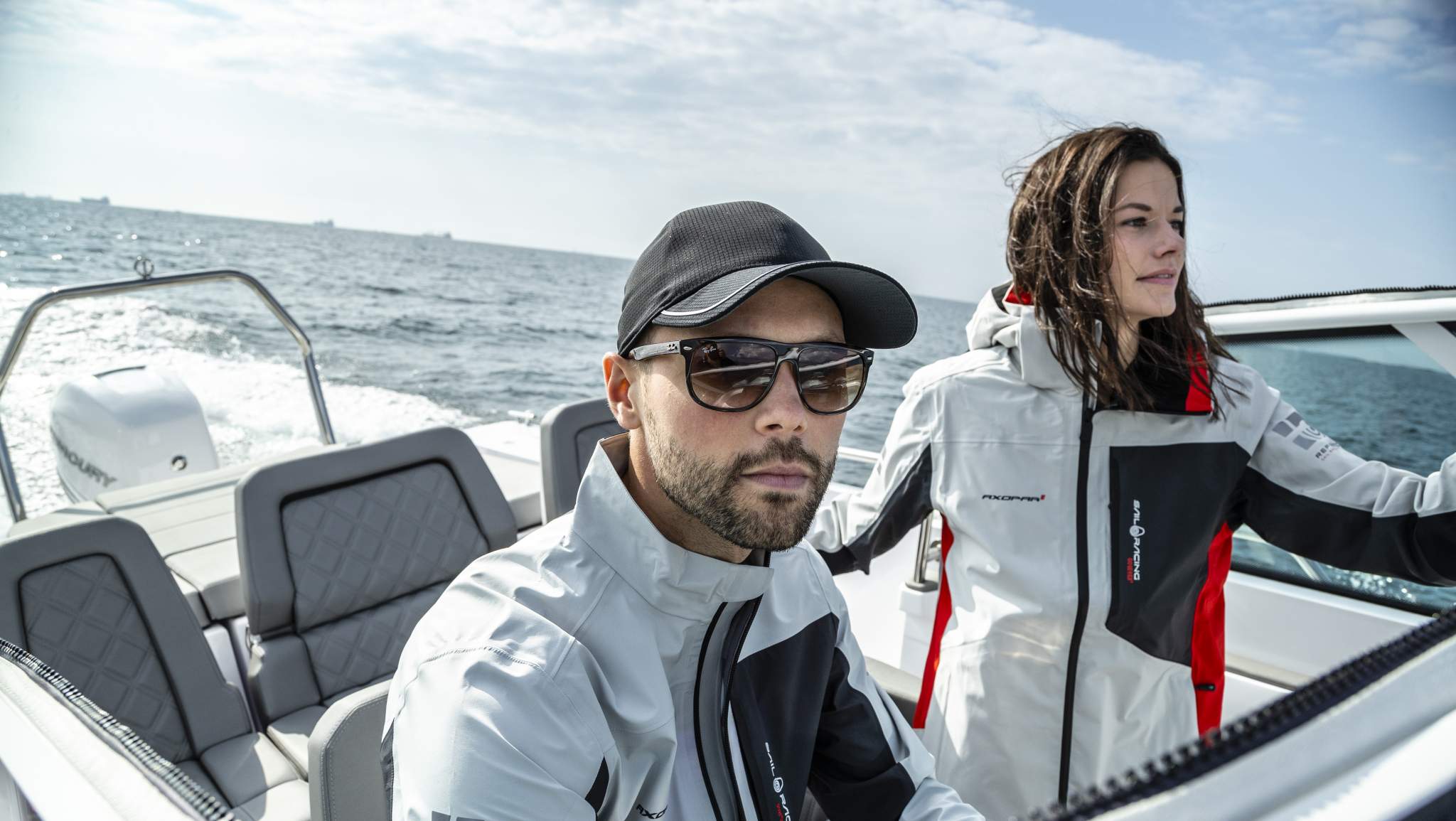 Keep track
If you haven't heard about smart watches, the latest it item that you absolutely NEED… are you even from 2019?
Eyachts team member Marnie, did her research before purchasing her own watch and it appeared the verdict was 100% on the side for Garmin. Not only do Garmin smart watchex do EVERYTHING you would want a smart watch to do, they are the only company that has a partnership with Spotify, everyones favourite music streaming app. So if you want to have music there is really no other option.
When selecting the Axopar branded Garmin watch we wanted to make sure we were getting a Marine worthy watch that really had it all, so you wouldn't miss out on any features. We landed on the decision of the quatix® 5
Specifically Designed for the Water
Connects with compatible Garmin chartplotters and other devices to provide autopilot control³, remote waypoint marking, data streaming, sail racing assistance and much more
Built-in FUSION-Link™ Lite app controls connected StereoActive™ products as well as other ANT®-enabled stereo models (RA70/BB100)
Includes Elevate™ wrist-based heart rate¹
Connected features² include smart notifications, automatic uploads to Garmin Connect™ online fitness community and personalization through free watch faces and apps from our Connect IQ™ store
Battery performance: up to 2 weeks in smartwatch mode (depending on settings), up to 24 hours in GPS mode and up to 60 hours in UltraTrac™ battery saver mode
Providing comprehensive boat connectivity. It connects with compatible Garmin chartplotters and other devices to stream data to your quatix 5 watch, including speed, depth, temperature and wind. Compact and stylish with quick-change bands, it also sports advanced fitness features and a wrist-based heart rate monitor. With built-in activity profiles and performance metrics for paddle boarding, swimming and canoeing — whatever sport you want to track, quatix 5 has you covered.
Take Control Anywhere On Board
Advanced autopilot control and remote waypoint marking features allow you to maintain control of your vessel, even if you are not the one at the helm. With the quatix 5 watch, you can actually access a GHC™ 20 autopilot control unit to control the autopilot — change heading, turn and steer the boat. You also have remote waypoint marking, which allows you to add a waypoint from quatix 5 and have it sync automatically with your connected chartplotter.
Collect Water Sports Data
Whether you're paddle boarding or canoeing, quatix 5 will track your stroke and distance per stroke plus your total distance; it even provides lap tracking. Plus, if water skiing, you can check your boat speed with a glance at your quatix 5 watch.
Navigate Across Water and Land
quatix 5 watch is equipped with high-sensitivity GPS navigation and tracking functions plus ABC (altimeter, barometer and compass) sensor capabilities. The built-in altimeter provides elevation data to accurately monitor ascent and descent, while the barometer can be used to predict weather changes by showing short-term trends in air pressure. The 3-axis electronic compass keeps your bearing, whether you're moving or not. In addition, there's an internal gyroscope to help improve position accuracy (and battery life) in UltraTrac mode.
Enjoy Your Entertainment
You can actually control your onboard entertainment system with quatix 5. Use the built-in FUSION-Link Lite app to control connected StereoActive products as well as other ANT-enabled stereo models (RA70/BB100).
Wrist-based Heart Rate¹
On your wrist, Elevate wrist heart rate technology lets you monitor your heart rate without wearing a chest strap. In addition to counting steps and monitoring sleep, the watch uses heart rate to provide calories burned information and quantify the intensity of your fitness activities.
Built-in Activity Tracking
Whether you're on water or dry land, quatix 5 can track your physical activities. It features Elevate wrist-based heart rate monitor, which provides 24/7 monitoring without the use of a chest strap. It also offers advanced fitness training features that include training statistics and activity profiles for multiple sports/activities such as running, biking, swimming, hiking and golfing.
Comprehensive Smart Connectivity
Smart notifications² through quatix 5 let you receive emails, texts and alerts right on your watch — whether you're on the water, trail, golf course or simply away from your desk. Other connected features include automatic uploads to our Garmin Connect online fitness community, live tracking and social media sharing through our free Garmin Connect and Garmin Connect™ Mobile applications.
Always Impressive
Sleek, stylish design makes a statement on and off the water. Equipped with Garmin exclusive QuickFit® band system, quatix 5 allows you to change the band quickly and easily with no tools. It also features preloaded marine-styled watch faces you can change to fit your mood. It's also compatible with Connect IQ so you can download more free watch faces and activity apps.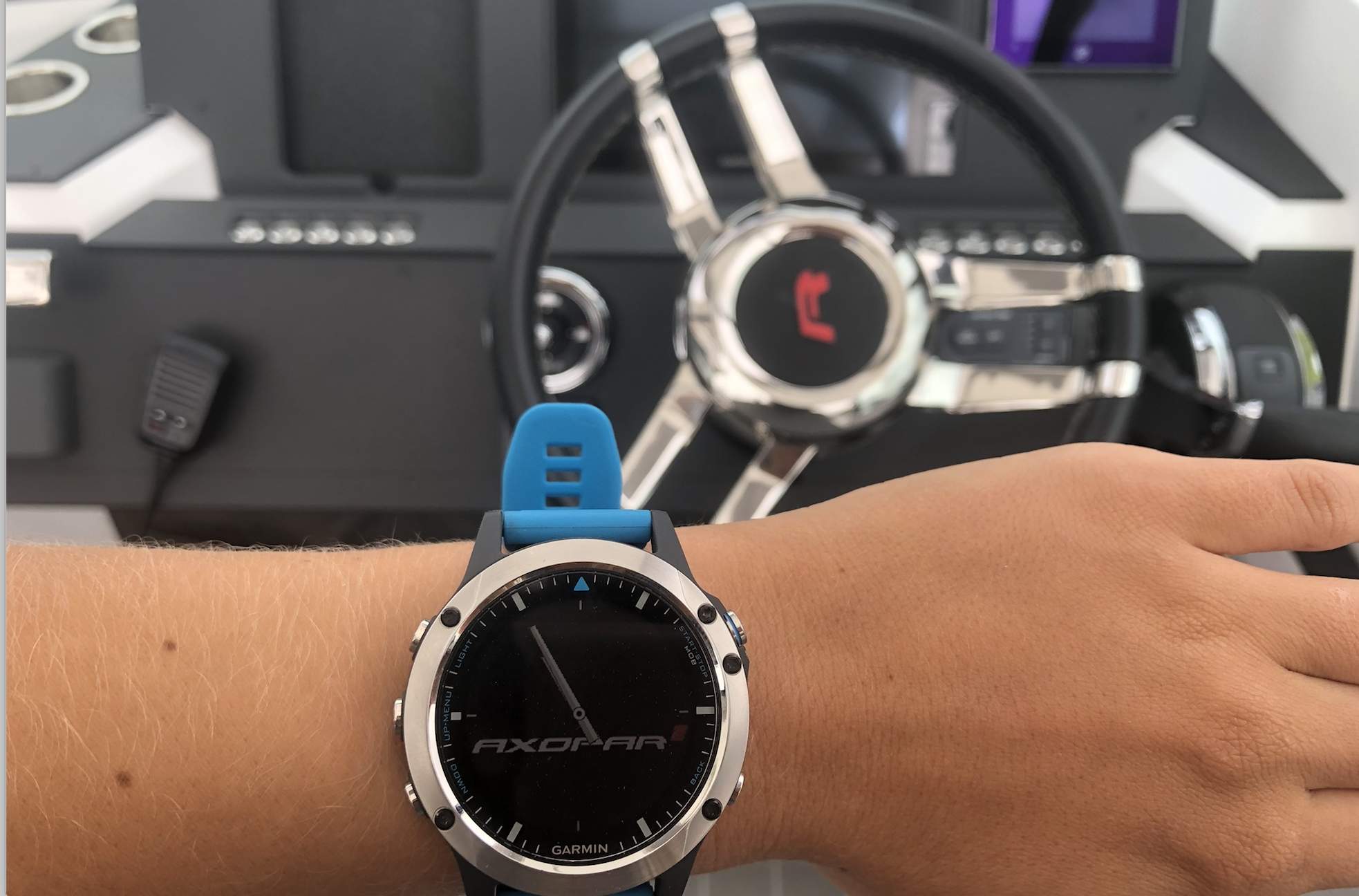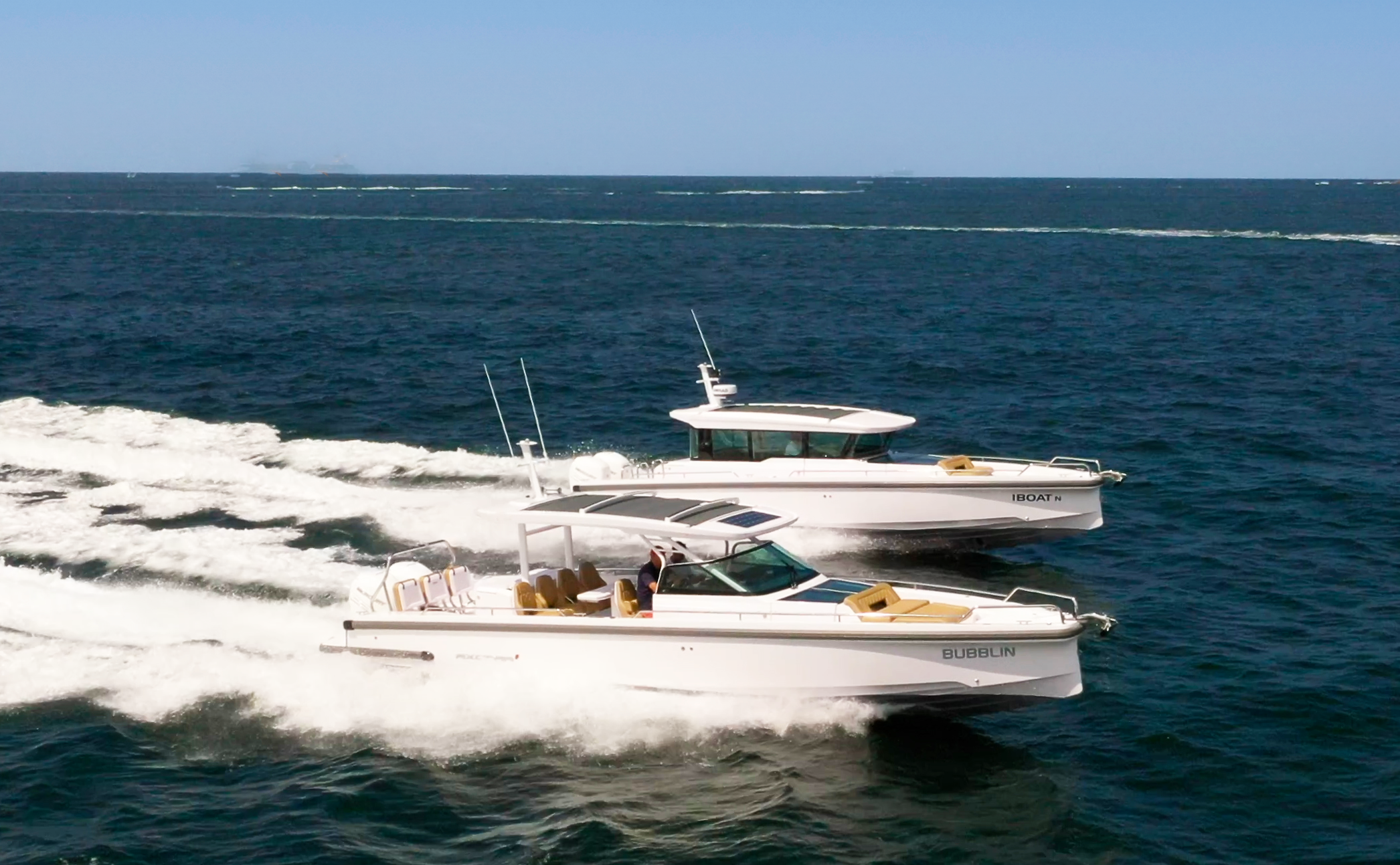 Axopars' offshore performance is what they are best known for. As anyone from the Sydney area would know, travelling from Pittwater to Sydney Harbour is a popular route that often has challenging conditions.
read more