 THANK YOU FOR REGISTERING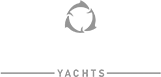 THE EXCLUSIVE AUSTRALIAN AND NEW ZEALAND IMPORTER & DISTRIBUTOR FOR ALL EYACHTS BRANDS
HAS IMPORTED OVER 700 BOATS INTO AUSTRALIA, NEW ZEALAND AND THE PACIFIC ISLANDS
DEALER PRINCIPLE HAS OVER 35 YEARS EXPEREINCE WITH LONGEVITY IN THE MARINE INDUSTRY.
PART OF A DIVERSIFIED GROUP INCLUDING; EYACHTS, TMG, COBLI AND VESSELTEC.
PROFESSIONAL DRIVER TRAINING BY QUALIFIED SKIPPERS WITH EVERY SALE
EYACHTS PTY LTD - CLUB MARINE EXCLUSIVE PLATINUM DEALER OF THE YEAR WINNER 2015 & 2021
AXOPAR BEST BRAND AMBASSADOR 2018
AXOPAR BEST INTERNATIONAL DEALER OF THE YEAR 2019 FOR SALES AND SERVICE
BIA INDUSTRY MEMBER FOR OVER 20 YEARS
STAFF THAT HAVE INTEGRITY AND GOOD TECHNICAL INDUSTRY KNOWLEDGE WITH LONG TERM HISTORY WITHIN OUR GROUP (CUSTOMERS TRUST AND FEEL SAFE).
EXPERIENCED AND PASSIONATE SALES TEAM (MANY WITH PROFESSIONAL SKIPPER BACKGROUND)
OWN IN-HOUSE SERVICE TEAM - VESSELTEC
THE SCALE OF BUSINESS AND DIVERSITY GIVES A HIGH DEGREE OF COMFORT TO CUSTOMERS IN TERMS OF FINANCIAL ARRANGEMENTS.
SET MAINTENANCE AND SERVICE COSTS PA AT OUR DEDICATED SERVICE CENTRE OWNED BY THE GROUP
OWN IN-HOUSE TECHNICAL TEAM INCLUDING SHIPWRIGHT, ELECTRICIAN & RIGGER.