Fresh Approach to Alfresco Afloat – Pardo 43 Review
With European charisma and luxury, the Pardo 43 brings surprisingly practical benefits to the way in which many Aussies enjoy their boating.
Even the most jaded soul will experience a quickening pulse of exhilaration at the controls of the Pardo 43. Both wheel and throttles are light and responsive, not overly so, just right to feel the irresistible flow of power from the dual Volvo IPS 600 440hp diesels. They rapidly spin up the contra-rotating tractor propellers to efficiently accelerate and direct the hydrodynamic hull.
Boats are fun and enjoyable for cruising, angling and relaxing, but they offer so much more when they are also exciting to drive. Skippers will find themselves leaning forward in anticipation as they stand at the wheel of the Pardo. The bolster of the supportive seat can be flipped up to give plenty of space for both feet and derriere.  The smiles of all onboard will broaden as the long foredeck lifts to the thrust of the quadruple props and the boat becomes vibrant with the joys of life.
There are a number of very interesting points to come out of this vessel. First up is the growing popularity of 'dayboats'.  As well as those who were always entirely happy with a 'picnic' boat, market feedback shows that very few owners of cruisers stay overnight more than a couple of times a year if even that. Mostly such boats are used in day outings for a lunch with family and friends and maybe a visit to a scenic bay or a favourite waterside restaurant. Other 'voyages' are just to relax, entertain and perhaps to enjoy some watersports. A constant inclusion is to simply lounge around in convivial conversation over a drink.
A 'dayboat' can easily and comfortably meet all those 'needs'. To achieve personal 'wants' as well, add the elements of performance, luxury and contemporary style such as on this 43.
The next point is a noticeable increase in experienced boat owners who are looking to downsize to a more easily handled craft. The youngsters are not so young any longer and are pursuing their own interests, the effects of becoming chronologically advantaged are being felt throughout the body and mind, and it's just so much easier not to climb stairs to a flybridge or to wander through (and clean) cabins and bathrooms that are hardly ever used. Most time onboard is either at the helm underway or in the cockpit upon arrival. Thinking about it, a 'dayboat' begins to look very advantageous.
A third point is the escalating number of advanced-technology dayboats becoming available in Australia with this Pardo 43 being a prime example. It was the first of its marque in the country and was purchased within a week by a very experienced boat owner after being imported by a very successful luxury boat distributor.
That distributor is Eyachts which was founded by Peter Hrones some 15 years ago. Peter had already established a reputation by successfully marketing around 550 yachts through his previous company Windcraft. Perhaps somewhat adventurously, Eyachts was created to bring 'different' boats to the Australian market including the Pardo.
The Pardo is an attention-grabbing design from the combined talents of Cantiere Del Pardo and Zuccheri Yacht Design. Both are based in Bologna, and Zuccheri was established in the early 1980s to specialise in motoryacht design and engineering. It has since produced more than 70 designs and seen over 1,000 boats constructed.
The result in this Pardo is a most contemporary design with a unique hull beneath a very practical layout that emphasises space and comfort for dayboating entertainment whilst still providing perfectly suitable accommodations for overnight stays.
It's just so easy, and safe, to move all around the 43 from its huge boarding platform, past generous aft sunlounges and seating, a monster cockpit area and a high-tech helm station with triple bolstered seating. Continuing to the sharp end is along wide sidedecks below safe bulwarks and on to the forward cockpit with more sun lounges and a neat aft-facing seat right at the stem. That spot would be sensational for the young, and the young-at-heart, to ride when swinging across gentle swells.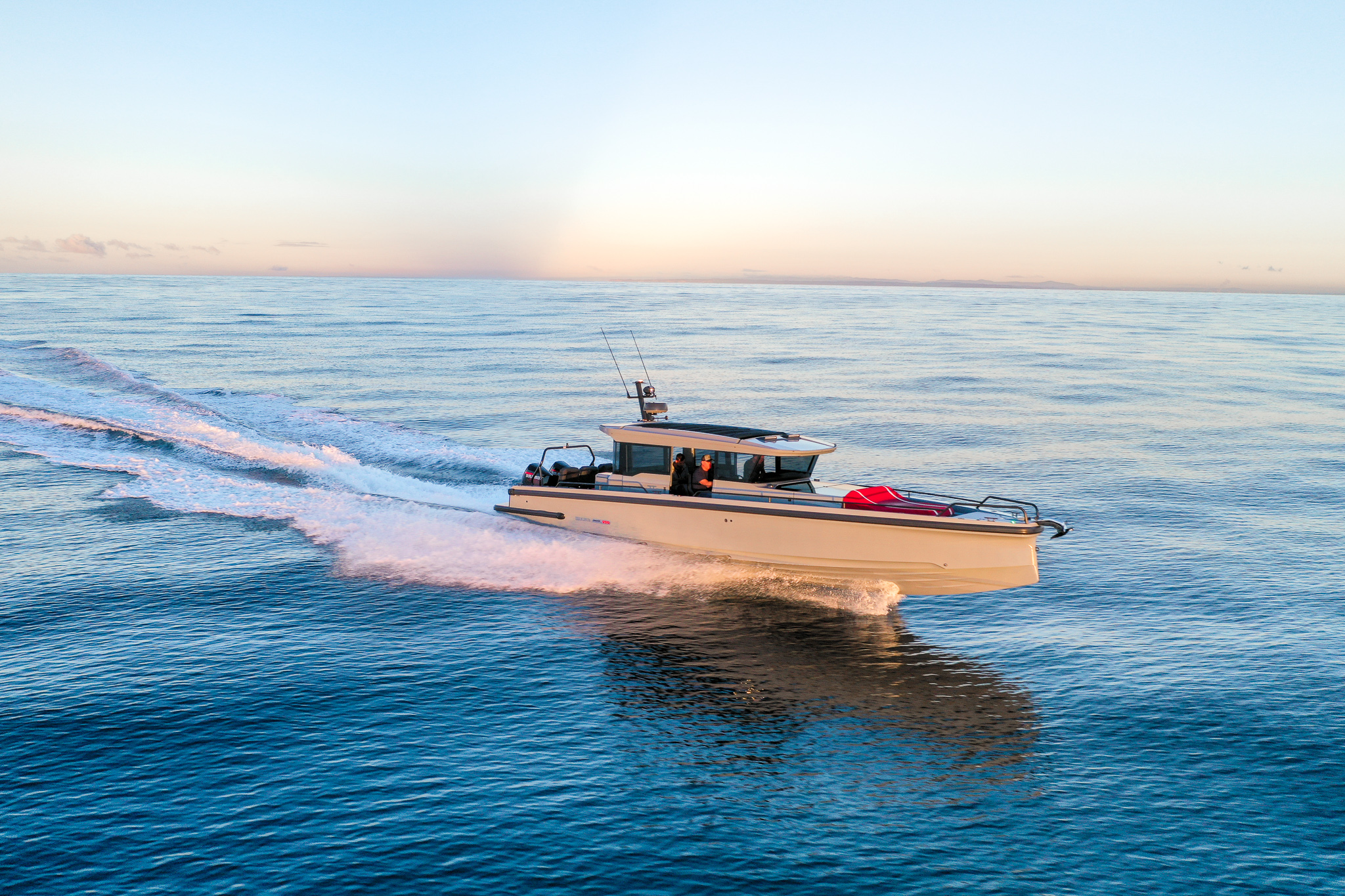 Three highly experienced boat drivers with a mission to take the BRABUS Shadow 900 Cross Cabin 300 nautical miles up the New South Wales coast in record breaking time. Join them on the journey to find out how quickly they got there.
read more