UNDERSTANDING THE CONCEPT BEHIND BRABUS MARINE
BRABUS Marine is the result of the cutting-edge alliance between two of the most renowned companies in their respective genres. Bringing together the award-winning Finnish boat builder Axopar Boats and the long-established, high-performance luxury automotive car producer BRABUS.
Where Scandinavian Design meets German Engineering.
BRABUS Marine is devoted to redefine luxury day boating through building and developing ultra-exclusive, supremely exciting boats; the result of two companies united in the extreme.
If you are unfamiliar with the famous German company BRABUS AUTOMOTIVE ENGINEERING COMPANY AND CAR MANUFACTURER, they are best known in Europe and America for pimping up the coolest vehicles on the road to make them superior to anything else!
From a passion for fast exclusive cars to becoming a truly global player: When Bodo Buschmann founded BRABUS in 1977, he never dreamed his company would grow into the world's largest independent auto tuner and popular manufacturer of unique, high-performance automobiles over the course of the next four decades.
In the history of BRABUS benchmark cars, all of their topline supercar models have been given an instantly recognisable name, like the BRABUS Rocket 900, the Fastest Sedan in the World.
BRABUS MARINE WAS BORN

In 2017, Axopar Boats and BRABUS found an immediate and direct connection, sharing the same passion, values and goals, thus making a strategic alliance inevitable. Axopar Boats and BRABUS Marine share the same level of commitment, the same passion and the same dedication required to create game-changing products for discerning clientele all over the world.
All boats within the range are painstakingly hand crafted to the highest possible standards by skilled technicians utilizing the finest materials, newest technologies and bespoke engineering. Revel in the excitement of getting back behind the wheel, feeling the power and enjoying the unrivalled thrill of these well-mannered, super-fast and easy-handling boats.
Adopting the identical philosophy of BRABUS supercars, whereby a premium car, such as the Mercedes-AMG range is utilised as a platform from which BRABUS build their supercars, we transform and redefine a selective range of Axopar boats into BRABUS Shadow superboats.
The BRABUS Shadow range is designed for a select group of boat owners who want to enjoy the very best exclusive boating experience for absolute individualism, ultimate luxury and seriously impressive power and performance.
Be ready to be surprised!
Read More about BRABUS Marine Design
Read More about AXOPAR Designer Jarkko Jamsen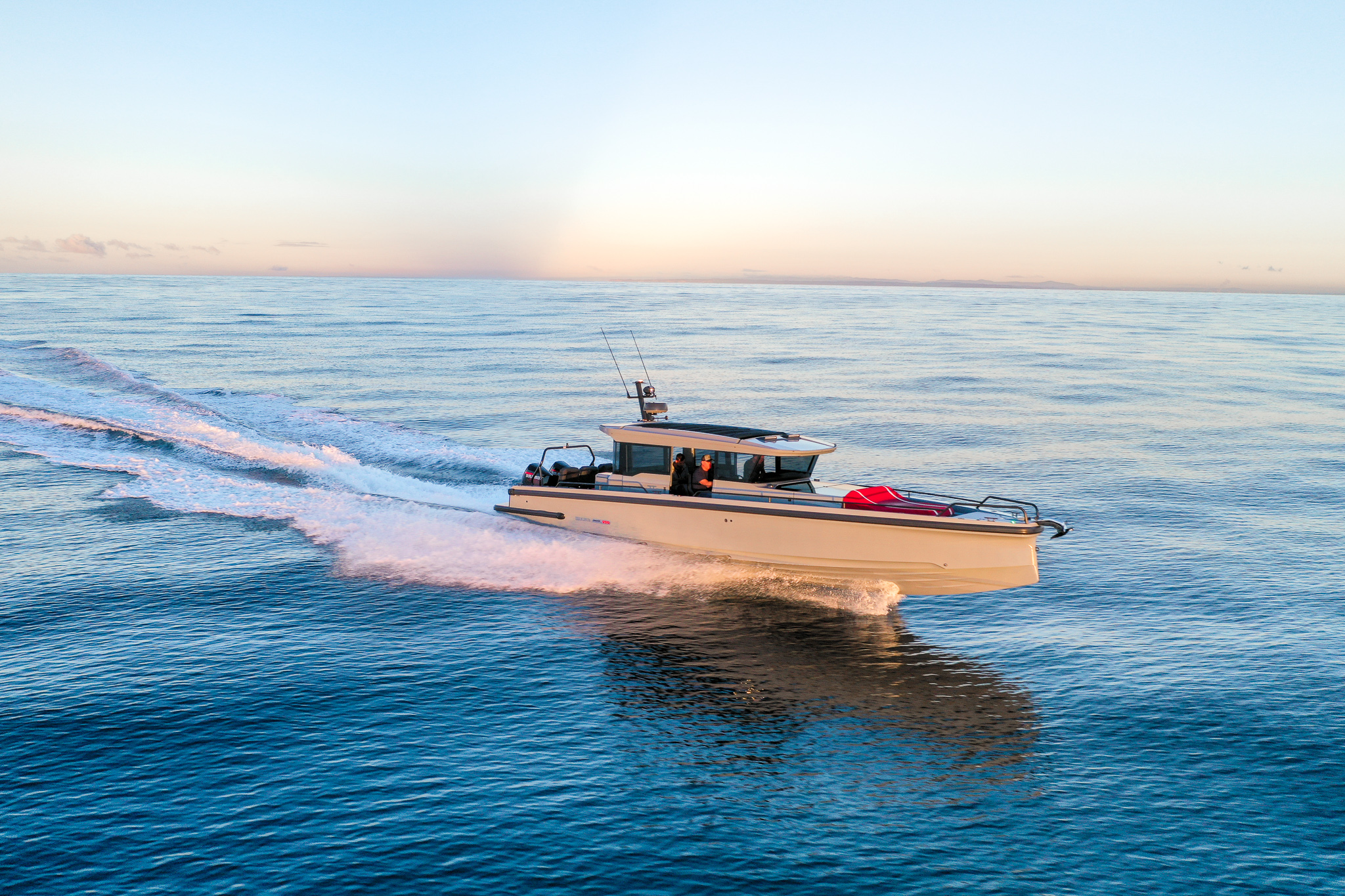 Three highly experienced boat drivers with a mission to take the BRABUS Shadow 900 Cross Cabin 300 nautical miles up the New South Wales coast in record breaking time. Join them on the journey to find out how quickly they got there.
read more